X-Ray Spex : Bio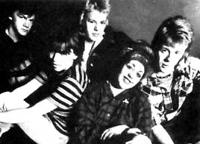 It was in the hot summer of 1976 that Poly Styrene placed an advert
in the British music papers NME and MELODY MAKER which started with
the grabbing header of 'YOUNG PUNX WHO WANT TO STICK IT TOGETHER'.
The ad worked like a magic magnet.
Jak Airport, Lora Logic and Paul Dean were first through the doors to audition.
Poly thought they were talented plus cute,
perfect for the X-RAY SPEX dream. X-RAY SPEX gave their debut performance
at London's Roxy in Covent Garden after just six rehearsals in their manager's
front room. Energy galore, but a little shambolic - as can be heard
on the LIVE AT THE ROXY album. Despite much excitement and days
in which their schedule was busier than one any member of the royal
family would tolerate, Lora left the band in favour of school.
External Links