Wolf Alice : Bio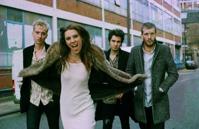 Wolf Alice are a four-piece alternative rock band from North London, formed initially as a two-person band in 2010. Its members since 2012 are Ellie Rowsell (vocals, guitar), Joff Oddie (guitars, vocals), Theo Ellis (bass), and Joel Amey (drums, vocals).

They released their official debut single "Fluffy" in February 2013, and the single "Bros" followed in May of that year. In October 2013 they released their official debut EP Blush. Their second official EP Creature Songs was released in May 2014. In February 2015 they released the lead single "Giant Peach" from their debut album My Love Is Cool, which was released in the UK and U.S. in June 2015.[1]

The single "Moaning Lisa Smile" from the band's 2014 EP Creature Songs peaked at #9 on Billboard Alternative Songs in August 2015,[2] and has been nominated for the Grammy Award for Best Rock Performance for the 2016 Grammys.
External Links