Twisted Angels : Bio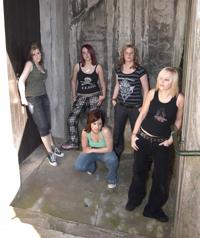 Twisted Angels are exactly what is needed in the current manufactured world of rock and pop. Formed by 4 schoolfriends in 2002, the band played regularly and as frequently as possible on their home island, the Isle of Man. After 3 years of hard work their album Alter Ego was signed for worldwide distribution and they undertook 3 UK tours in 2005. Received well in all venues, the girls' ability to actually play, combined with their natural love of music won over even the coldest of audiences.

The first single from the album, "LA", was actually the first song the band ever wrote when they were all very young, but this didn't stop it from entering the UK singles chart at number 17, and the UK Indie chart at 22. The video for the single featured Sir Norman Wisdom, and still gets airplay on television.

As well as a new album this year, there will also be a change in line up with laura moving to keyboards and new girl sara taking over lead guitar.

The new album "Confessions" has seen the girls mature as people and as musicians, and is pointing the girls to a heavier sound.
External Links