The Weed : Bio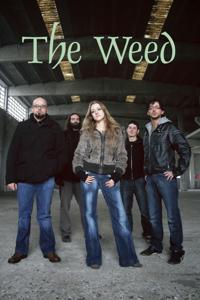 The band "The Weed" was born through a game in June 2002 at an old piggery used as studio on a hill in Piacenza, Italy.
From then, its 5 members, who started with the intention of giving life to a stoner rock project, amused themselves by influencing the band's sound, each drawing on their diverse musical expertise and backgrounds.

In 2003 they recorded "Overview", their first self-financed demo composed of 7 songs, two of which were published in the following compilations: "Desert Sounds" – a "Wuck Records" production - and "Twenty Two", produced by the English label "Cork Dog Records".

The second demo – called "The Weed" – is a 10 song album recorded and produced by the band between 2004 and 2005. Thanks to this, they were offered a distribution contract by the English label "Elfwytch Records"…. unfortunately the label closed down just as the demo neared completion….
That started a period of bad fortune, since the band was evicted from the studio and had to keep wandering between paying studios for over an year (…not pleasant…at all!).
The original line-up also suffered some changes as a result of these and other issues.

While the band was regaining stability – eventually thanks to the arrival of a new drummer - they had to stop live shows for over an year due to health issues of the lead vocalist. However, this didn't stop their creativity: in 2008 they were back on the scene and a new self-made album was ready: "…And the evening dies".
External Links