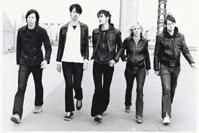 The Sounds are:

Maja Ivarsson - Vocals
Felix Rodriguez - Guitars
Johan Bengtsson - Bass
Jesper Anderberg - Synthesizers
Fredrik Nilsson - Drums


Virtually everything written about the band over the last three years mentions how this band from the small southern Swedish city of Helsingborg stalks the stage like they think they're the greatest band in the world. "I can't really help myself onstage," singer Maja (pronounced "Mya") Ivarsson says. "We're not really putting on a show -- this is the way we are always."

That attitude has helped bring the band from Helsingborg to the world. The Sounds' 2002 debut, "Living in America" -- made when the band members were barely out of high school -- debuted at #4 on the Swedish album charts and earned them several "best newcomer" awards and a Swedish Grammy. In America, the album firmly established the band and as one to watch as they played more than 300 gigs since its release, logging many miles on the Warped Tour as well as with the Foo Fighters and the Strokes. Besides being on every late-night TV show and featured in almost every national US publication, including the New York Times Sunday Magazine, which is startling for any band, let alone one from such a remote place, The Sounds also unexpectedly picked up a star-studded fan base, with Dave Grohl, Pharrell Williams, Quentin Tarantino, Bam Margera and even Britney Spears among the many publicly cosigning for the band.

"It's kinda weird, being from such a small city in Sweden and all these celebrities starting to dig our band," says keyboardist Jesper Anderberg. "But it's cool when we play and people like it. That's the most important thing to us."


The Sounds' second LP, Dying to Say This to You, is an even stronger fusion of the band's punk attitude and pop savvy. Honed by a sonic brain trust that includes producer Jeff Saltzman (who helmed the Killers' "Hot Fuss"), with additional production from Scratchie Records co-owners James Iha (Smashing Pumpkins, A Perfect Circle) and Adam Schlesinger (Fountains of Wayne, Ivy) and mixer Paul Q. Kolderie (Radiohead, Pixies, Hole), the album presents a diversified and deeper version of the sound they established on their debut.

"The rock songs are even more rock and the electronic songs are more electronic," Maja says. "One song even has a disco vibe, like an Erasure thing, but you can still totally recognize that it's The Sounds."

From the spitting rock cockiness of the opening track and first single, "Song With a Mission," to the funk punk of the sexed-up "Tony the Beat" to the new wave anthem "Painted by Numbers" to the tearjerker piano ballad "Night After Night" (a second, full-band version of which is included on the LP as a bonus track), the album's expanded styles come in part as the result of a different approach.

"How we wrote the album was a big change for us," says guitarist Felix Rodriguez. "The first album we wrote together and rehearsed together and played the songs live before they were recorded. But this one, we wrote maybe 75% in our studio in Malmo from February till May, then we went straight to recording."

Sessions began with Saltzman at Studio 880 in Oakland, California, the massive and eccentrically designed studio where Green Day recorded "American Idiot." "We made the first record in a small, small studio outside of Stockholm," Maja says, "but 880 is huge -- you feel like you're Bruce Springsteen when you walk in."

The music the band ended up making there, at New York's Stratosphere Sound and Boston's Camp Studios (formerly Fort Apache) is bigger and more complex as well. "When we wrote the first album, everybody was so young," Maja says. "So we were really going for upbeat, uptempo songs with catchy lyrics and stuff. And now, you can still hear that in some songs, but others are darker, because we have been through a lot together. There's still a catchy chorus, but maybe the lyrics aren't about drinking and partying. That combination of darkness and light is the kind of twist I like."

Thus, on the new LP you'll find exuberant-sounding melodies juxtaposed with lines like "Without me, you're nothing at all" ("Song With a Mission") and "Could I act like you, and put a smile on my face? / Not even for a second would I lie to myself" ("Painted by Numbers"). And "Ego" features the lyric from which the album takes its name: "I've been dying to say this to you/ but I don't know what else to do/ because I've seen your fucking attitude."

That word again.

"In 'Ego,' the person is really eager to say something -- and we are as well," Maja says. "To the public, to our fans: we've been longing to see you, and we are really dying to play this music for you."

Felix, however, puts a finer point on it. "When we are performing I feel so fucking good. It's not that I think I'm better than anyone else, but…In Sweden, we have this expression called the Jante Law -- it's been around for ages, it's this mentality that says that you should not think you're a big deal, that you should not be proud of who you are or what you do. I don't walk around and feel cocky, but I'm doing something with my life and I'm really proud of that. Maybe that's why we have a lot of attitude."