The Johnsons : Bio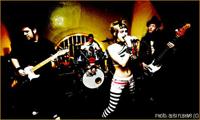 The idea for The Johnsons first came about three years ago, when Ian Fuller (bass) and Jake Knight (guitar) met for a few pints in their local Basingstoke pub. They decided to put together a band that would incorporate elements of the music they love: Punk, Blues, and Rock 'n' Roll.
They first recruited James Sturtridge, a drummer they had both worked with in the past and started working on material.
The next recruit was Nadeen White (vocals/guitar) who Ian knew from drunken dancing at a local club. With Jake, Ian and Nadeen all writing material the songs started taking shape.
Soon The Johnsons had established themselves as a solid anarchic and flamboyant act on the local music scene and found themselves a loyal local fanbase.
The Johnsons have just released their 4th EP 'Ready For Action' .
External Links