The Divine Madness : Bio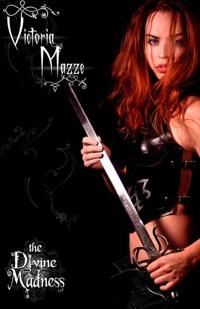 Have you ever wondered if Alice left all the rabbits alone, stopped pondering at tea parties, and instead took on being the lead singer of a band, what she would sound like?

I'm talking about vocalist Victoria Mazze of the new band The Divine Madness.

The Divine Madness are experiencing rebirth as cinematic Rock/Goth with style, reminiscing such 80s artists as Berlin, Blondie and Siouxsie And The Banshees. Art Rock? Art New Wave? Whichever - it breathes originality.

The band was first formed in 2005 from an intense friendship between keyboardist Chris Ride, drummer Chris Cano, vocalist/film composer Victoria Mazze and guitarist Moni Scaria, (formerly of The Kidney Thieves). The band draws its inspiration from such diverse influences as 80s New Wave, Brit Rock, Opera, classical music and film composers such as Danny Elfman. The Divine Madness have carved out a distinct sound of angelic vocals with epic choruses, cinematic alt/rock/classical instrumentation, electronic touches, and a sensual gothic feel.

When asked about the bands inspiration for the songs Victoria says: "From death, birth, love, lust, mortality, immortality, sacrifice, religion, politics, stories in the paper, stories from children's books, personal experiences; one of us even had one of the songs come to us in a dream."

The band performs in the LA area at such clubs as The Gig, Safari Sam's, The Lava Lounge and The Dragonfly.

The Divine Madness songs and video can be seen in the new DVD: "Bram Stoker's Dracula's Curse" now available at Blockbuster video, Hollywood video and soon to be on the Sci-Fi Channel. The Divine Madness songs can also be heard in the films: '911 The Commission Report' and the upcoming film 'Dragon'. Their new video will be featured on the DVD extra features for the film 'Hitchhiker'.
External Links