The Black Sheep : Bio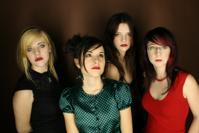 "The Black Sheep" - A name not just given by choice but also a statement about a remarkable Rock Band.
These four young woman are charming, smart and have a mind of their own.

When founded in August 2005 in Cologne, Germany The Black Sheep wanted to express their feelings and musical passion without beeing pushed in a corner. Their decision to play All-Girl-Alternative-Rock gave them the option to experiment while playing their powerful music.

The newspaper "Kölner Stadtanziger" wrote on September 14th 2006: "The Lyrics are mostly about the concerns of the young generations: Individuality, love, freedom and the problems of finding your own place in the ignorant society they are born into. (…) Listening to the song Cold Charming Melody you dont feel just the bands love to the music but also their connection to the sea and its power and freedom."

Just one month after the band was founded they already performed at local concerts with their catchy songs, all written by themselves.

Now, one year later, they have already achieved a lot:
- Winner of the silver "Otto" for their performance in a band contest initiated by the biggest german youth magazine "Bravo", including a performance in front of 12,000 visitors at the "Bravo Supershow 2006"
- They also performed at the YOU youth exhibitions 2006 in Dusiburg and Berlin. Including the supervision of various workshops at the Duisburg exhibition
- Live performance at the Fifa World Cup 2006 Fan Fest in Berlin
- Opening Act for the german No. 1 Rock Band Silbermond
- The fanatic support of their fans

The Black Sheep is currently working on an EP and is planning the recording of a full length album.
External Links