Amy Studt : Bio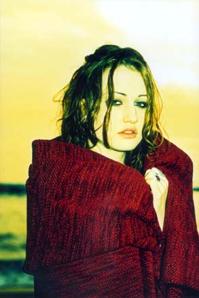 Bling-bling ladies admire Mis-Teeq's sparkling sass and skater girls have got Avril Lavigne's pout to practice in front of the mirror. But there has been no role model for the limp-haired, shiny-faced, misunderstood teen for whom designer labels are evil and angst is a poetic necessity. Until now.
For Amy Studt, being 16 is less about being sweet than surviving.

Although she is a protege of Simon "Spice Girls" Fuller, Studt isn't your usual pop princess: she has the requisite centre parting of a singer-songwriter and the troubled soul of the least popular girl at school.

Armed with classy, catchy songs - co-written by Karen Poole of Alisha's Attic, Gary Barlow and the usual Swedish suspects - Studt keeps the mood thoughtful and vocal gymnastics to a minimum.

She is spiky on Misfit and swooning on the dreamy Carry Me Away, before standing up for the scruffy and sensitive on Ladder in My Tights, hesitant as she swears, an angel in unfashionable clothes.
External Links