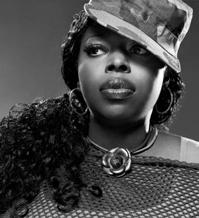 Her music is raw, honest, always real. Just as straight ahead is her attitude to that music. A lyrical poetess of the first order and leader in the neo-soul movement, Angie Stone lays it on the line, no-holds-barred: "I don't go for the trendy commercial approach. What I do is basic soul music - no frills added".


The international record-buying public found that out when they turned Angie's 1999 platinum debut Black Diamond into a critically acclaimed global best seller, spurred by the success of No More Rain (In This Cloud), a major pop and R&B hit single. That Angie would continue to keep it real was without question: what the eager audience she's created is about to discover is that this multi-talented singer, songwriter, musician and producer's latest work Mahogany Soul goes even deeper lyrically than its much-loved predecessor.


The song titles tell it all: Mad Issues, a song about those who just have to have drama in their lives; Pissed Off, which like many of the other tunes on the album, is based on Angie's experiences in life, love and relationships; If It Wasn't For Your Mama, an everyday tale of family members who feel compelled to get into folks' business; and Brotha, the first single, a positive, uplifting anthem that lauds the strengths and qualities of black men.


"I was reaching out for a certain freedom of self-expression on my second album. I went into making it with the attitude that it would be better than my first album, that it would still have the sensibilities of old school soul but with more of a street edge" says Angie. Working with a cast of producers that includes Raphael Saddiq, Warryn Campbell, Gerald Isaac, Eddie F., Ali Shaheed Muhammed, and Eran Tabib, Angie masterminded the direction for Mahogany Soul: "It was about setting the tone for whatever I wanted the album to be. I worked with some great people but my thing is, if we're gonna work together, you have to understand where I'm coming from. Whatever you're doing production-wise has to coincide with what I'm saying musically and lyrically".


Drawing on the influences of soul ancestors like Curtis Mayfield, Marvin Gaye and Donny Hathaway - three of the artists who inspired her during her formative years Mahogany Soul is filled with the kind of tell-it-like-it-is musical statements that have made Angie Stone a pioneer in the realm of today's black musical riots. She duets with fellow retro journeyman Musiq Soulchild on Ingredients Of Love, a song she says "describes exactly what makes love a wonderful thing - a pinch of honesty, a litre of respect"


The no-nonsense, so-funky 20 Dollars deals with "folks who always want to borrow money knowing that they are not going to pay it back!" Starkly honest What You Dyin' For has a serious message for "young people who get suicidal over silly stuff, like a bad relationship. I'm saying, 'It's not about giving up your life just because things don't go right'". In her characteristically honest way, Angie says Time Of The Month is a self-explanatory tune "about a woman PMT-ing!"; while Life Goes On is "one of my absolute favourites on the album. It's about reminiscing about where you've come from and where you're at now"


Where Angie Stone has come from is a tradition of great gospel-rooted singing and music-making and where she finds herself now is on the cutting edge of inspired creativity: "I went into the studios in September 2000 and I just started writing and recording. Nine of the twelve songs I did back then are on the album. There's a natural high, a rush of adrenalin that I get when I'm writing, recording, producing"


Getting to the place where she could experience the range of her creative skills took a moment for the Columbia, South Carolina-born songstress. Hailing from a musical family ("my father performed in a local gospel quartet"), Angie was exposed to great gospel groups and joined the choir of the First Nazareth Baptist Church "when I was knee-high to a duck's tail. I've been singing and writing poetry ever since".


Listening to R&B legends like Aretha Franklin, Smokey Robinson, Hathaway, Gaye and Mayfield and performing their songs in the mirror in her bedroom, a teenaged Angie was destined to pursue a career in music even though at one point, "I was offered a few basketball scholarships to college " A self-taught keyboard player, Angie took what she calls "a lot of dead-end jobs" to raise the money to make her first demos.


After a stint with a local trio that led to her first experience as a recording artist, Angie contributed her burgeoning songwriting skills to Baby Cries, a track cut by Prince protg Jill Jones. The word was out and Angie soon found herself working with futuristic rappers Mantronix and superstar Lenny Kravitz, at one point playing sax in his band. By the late '80s, she had formed the trio Vertical Hold, whose A&M 1993 debut album A Matter Of Time achieved critical acclaim on both sides of the Atlantic, in part as a result of the Top 20 R&B hit Seems You're Much Too Busy.


In addition to collaborating with Mary J. Blige, Solo and Malik Pendleton, Angie was a key musical collaborator on D'Angelo's platinum-plus 1995 debut album Brown Sugar, working on several tracks with D'Angelo, whom she describes as "a musical soulmate". The talented singer-songwriter was one of the luminaries who contributed to Black Diamond, Angie's auspicious 1999 Arista debut album, collaborating with her on the track Everyday.


With rave reviews from media pundits and critics across the world, Black Diamond also included guest appearances by longtime musical friend Kravitz and former A Tribe Called Quest member Ali Shaheed Mohammed. Tracks like Angie's memorable cover of Marvin Gaye's classic Trouble Man, her own Bone 2 Pic (Wit U), standouts Life Story and Green Grass Vapors were embraced by a record-buying public hungry for a slice of homemade funk and soul that hearkened back to the traditional R&B of the '70s. By using a sample of the Gladys Knight & The Pips' hit Neither One Of Us on the beautiful No More Rain, Angie brought young and old soul music audiences together.


"I had been preparing for years and by the time Black Diamond started to take off and No More Rain hit, I was ready for the world" she recalls. "It took me a long time to get excited about what was happening. I worked very hard and I felt comfort in a spiritual way once people started getting into my music. I was grateful to God for the blessings and when I received two Lady Of Soul Awards [in 2000], that was a turning point. The acceptance of the crowd that night was overwhelming. It was like they were saying, 'it's about time, you've earned it'".


Balancing the demands of being the single mother of a young son and a teenage daughter, Angie hit the road and performed on shows in late 1999 and throughout 2000 with a variety of different artists. Getting to perform and be in the company of legends like Ron Isley, Maurice White and Charlie Wilson (of The Gap Band) was "amazing for me. Those people paid their dues and paved the way for artists like me so it was a real honour to have them respond to my music "


A hectic year included a European tour that gave Angie another highly emotional experience: "Having people not of my race embracing me as a human being and my music was overwhelming. It made me cry with gratitude and made me determined that I would work twice as hard on my second album".


That hard work is evident throughout Mahogany Soul which fittingly includes a beautiful tribute to Curtis Mayfield via his 1970 classic The Makings Of You and a brand new Andrea Martin song, I Wish I Didnt Miss You, which includes a sample of The O'Jays' Backstabbers. Angie's reverence and respect for R&B pioneers is upfront and clear as she testifies to the role of such folks as Betty Wright, Gaye and Mayfield on the standout Soul Insurance, a song Angie wrote from real life experience "about people who try to steal your musical ideas. The song is dedicated to all those folks who try to do what I call 'commercial soul'. For me, it's about not watering down but using the roots of gospel and R&B. It's more direct lyrically and musically than my first record and I hope people will get the same out of it as I put into it. And I put a lot of love into this album"


Love, indeed, and a whole lot of blood, sweat and tears. The result is Mahogany Soul, an amazing sophomore album that reinforces Angie Stone's emergence as a one-of-a-kind, passionate, honest and remarkable artist who is carving her own niche in the world of contemporary music. Ain't no doubt, in the realm of new millennium soul sisters, Angie's the real thing.