Stefy : Bio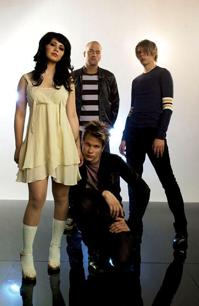 "People have been trashing on pop for a long time," announces the stylish lynchpin of Orange County's new wave electro pop outfit STEFY. "This band's here to bring some respect back."

STEFY's debut single 'Chelsea' fizzes with electropop brilliance, telling the tale of Stefy Rae's boyfriend baiting nemesis. Released in the States last year, it set blogs buzzing and put the TRL kids on a path to redial meltdown.

"It's not so much about one specific girl called Chelsea," Stefy Rae explains, "but the 'type' of girl called Chelsea. This beautiful girl who'll steal your boyfriend just for the hell of it. It's just fun for her. So that's what Chelsea is. You've loved someone, you've seen Chelsea come along, she's gone off with your man and you saw it happening right from the start."

But the band's debut LP has a lot more to offer than one chartbound single. 'The Orange Album' is a striking collection packed with songs where titles including 'Pretty Little Nightmare', 'Love You To Death' and 'Where Are The Boys', strike dashing poses all on their own. Like the first Gwen Stefani solo album it is the sound of music obsessives prising open their iPods with a screwdriver and empting the contents across a 21st Century mixing desk. The reference points include Blondie, Eurythmics, new wave – but there's a refreshingly modern take on all this and, again, like Stefani, the music's spiritual home is rooted deep in English soil. Ironic, given that nobody in the UK is currently making music with the class and dexterity of 'The Orange Album'. In a way the band's arrival on British soil – after RCA's UK wing picked them up from US indie Wind-Up - is bringing the sound of classic British pop music home.

"Don't tell me I can't do something," Stefy says. "I'll do it just to prove you wrong."