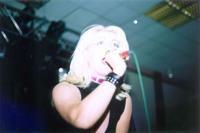 SPARES 1998 to present

Simon says:
Before Children on Stun broke up in 1998, I had spent some time in Sweden, chilling out and revaluating my life. I started to work on some tracks that were to be used for the next Stun album. As we all know by now this did not happen as the bad split up. For the rest of 1998 I continued to write and demo various tracks, some of wchich would finally make it on to the debut album "Tired & Bizzare".

As I write this and look back it was quite a strange time for myself. I think I must have had soem kind of breakdown, because for a while of time, getting through life was pretty hard going. Having finally climbed though the tunnel and reached the other side, all the tracks had been written and I was ready to record the debut album.

During this time I think that I wanted to get away from being known as the Stun´s guitarist, and to be accepted as a songwriter instead. When it came to recording the album I made a conscious decision that I would not play guitar on it but getting a friend doing it instead. In the end I used five other musicians on the album, Neil and Kyle who were in the Stun and three other mates with whom I had previously been in bands with.
All the bass, keyboards and programming were done by myself, my mate Gez played all the guitar parts, while all the other friends I had roped in had vocal duties to perform. The original concept I had was to mainly get a recording project together. at the time there were no plans to play live or to get any permanent members to join me. I managed to secure a small independent record deal with M&A Musicart (previously Children on Stun's record lable), and recorded the debut album "Tired & Bizzare". The album was recorded in 1999 and came out the following year.

The album was a strange mixture of songs and styles. I would say having the independence away from the confinement of working in a band unit, gave me the freedom to be able to do this. I knew it was not strictly within the Goth genre but all the tracks were still written in a dark vein and still keeping within the alternative music scene. I have often listened back to the album, and as a collection of songs I think it works well. There is no straight fromat for the album and the different tracks do not always sit well together on an album, but to put it into a cd-unit and blast away on a few of the songs I think it works well. The production does suffer a bit, but being able to have a hige recording budget to play around with has never been an option for me yet (but hopefully will be one day).

Overall the reviews were rally good and I think once people realised it was not another Children on Stun record, they did try and review the album with an open mind. I always thought the album was ahead of the Goth scene and would probably fit in with the scene a lot later in time. I think within the UK that is certainly the case now. Industrial and cyber bands within the Goth scene have since name checked the album as inspiration to them, which for me is a great compliment. Outside the UK the German market took well to it, which again I feel really pleased with.

In 2001 Spares debut single came out "The End of the Line". By now I was ready to return to my guitar playing duties. The single featured future Spares front woman Alison Gann and my old cohort Kyle Whipp. The single was really a progression from the debut album. The production I felt was better and the track "It's OK, I'm only Bleeding" was an industrial stomp. The reviews for the single were again encouraging, but I wouldn't say it was a bestseller by any means.

During 2001 I started to work on what would finallt become "Download", the second album released by the Spares. Originally Neil Ash offered himself as the albums producer, a gesture, which I thought at the time, would be a good idea. Recording started well enough and the first few tracks were laid down in demo form. By this time I had decided that the next album would be going back to a guitar based band sound. I suppose being one of the main songwriters in the Stun, and helping tp create the bands sopund from my guitar sound, the next stage would be to try and take these ideas a step forward within the Goth scene. I had also decided to try and get some continuity with Spares next album, after the different musical styles from the debut album. I asked Alison if she would do all the main lead vocals and with all this set in place we continued on.

The forst fruits of our labours were to be found on the "Download" promo cd single. This was sent out to fanzines, magazines and radio stations across Europe. The promo generated a lot of interest within the Goth scene and pretty much all the reviews and feedback was favourable. There was however a problem, the album was meant to be released in 2003 and time was ticking. Neil upgraded the home studio I was recording in and so the tracks had to be recorded again from scratch, other tracks were recorded but the process was taking a long time. Together with the computer crashing and other oddities I started to wonder if Download would ever come out.

As time continued Neil probably wont mind admitting that he took controll more and more in the recording process. What this meant that although the quality and productions was really good, the tracks seemed to me to lose something. By October 2002 it was all over between us. The recording sessions ceased to be. It was abd still is a shame that it ended as it did. It's one thing a band breaking up, which has been your life for 7 years, but it's another when friendships fall apart. Maybe it's just shit which happens?

Slighly concerned that the Download album had been aborted after a year and a half of hard work, that the promos had gone out and no album followed and that Spares had also arranged their debut gig at the Whitby Goth festival for April 2003, but still did not have a live unit, things were looking tough.

I had not worked this hard to let everything go. I rang up Kyle and asked if he was up for the gig. A few weeks later we started rehearsing as a threepiece. During March the album was finally recorded and finished off. A friend of mine, Alex, was asked to come along for the sessions to provide live drumming.

Once again I look back and I really would like to say that the album came out how I wanted it to, but it did not. It lacks production and energy, although I am proud of some of the tracks, which if I get chance will record again at a later date. The album is kind of split into two parts, the stuff which was rescued from the Neil Ash sessions and the other tracks recorded that March. I think the reviews have been quite favourable, but from something that promised so much originally and took a lot of time to do, it falls somewhat short of what I had hoped for.

The whitby gig was to prove a great experience. It had been 5 or 6 years since we had headlined the festival as Children on Stun. As soon as we got there it seemed like we had never been away. I think the gig itself was great for a few reasons. I had never planned to perform again but so many people over time had urged me to get back into the arena again and do battle, and although there was probably only a few people out of the thousand who attended the gig who knew some of the tracks it was a great feeling to be playing again. I do have great respect for the festival organizer Jo Hampshire, who twice a year puts the festival on, helps hold the scene together and treats everyone really well.

Having returned from Whitby I started writing tracks for the next album, at this moment in time titled "Suffering Fools Gladly". By August of 2003 five new tracks had been recorded in demo form.

In december 2003 Spares played their London debut gig at The Purple Turtle. This event was a Resurrection Records night headlined by Manuskript. Although we had a few technical problems I felt the set was ever better than that at Whitby and the new songs were well received. 2004 and the band are about to release another promo only single, out in February 2004 to promote the forthcoming album, which should be released in May.