Sky Cries Mary : Bio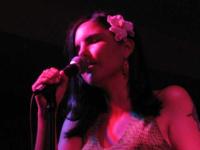 The roots of Sky Cries Mary were set when a University of Washington theatre student named Roderick decided to unite the energy of underground music with the mystique of avant guard theatre. The experiment worked and Sky Cries Mary quickly generated a massive underground following.

By 1993 the band boasted several of Seattle's best musicians, a signed deal with World Domination Records (a subsidiary of Capitol Records) and the successful release of their first full length album "Return to the Inner Experience."

Since Return the band has sold out countless shows in venues of all sizes, played internationally and released 5 C.D.'s including, "This Timeless Turning" (World Domination/Capitol) released in 1995, 1997's full length "Moon Bathing on Sleeping Leaves" (Warner Bros.) and the 2005 live album "Here and Now" (HooDoo Music). Their new album "Small Town" is set to continue the phenomenon.