Shampoo : Bio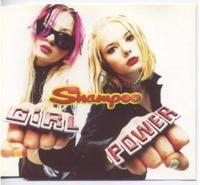 Jacqui Blake and Carrie Askew met as teenagers at high school in Plumstead, where they became best friends and partners in crime. In the early nineties they started writing 'Last Exit', the first fanzine for the Manic Street Preachers, and later appeared in the video for 'Little Baby Nothing'. The track featured vocals from porn star Traci Lords, although she did not appear in the video. They also wrote a fanzine for Fabulous.

While still in their teens they formed Shampoo (according to their self-propelled urban legend, the name derived from the schoolyard nickname 'the shampoo girls', due to their repeated retort that they were 'washing their hair' whenever the boys in school would ask them out.) Their first single 'Blisters and Bruises' with the b-sides 'Paydirt' and 'I love Little Pussy' was released by Icerink records (a shortlived label created by Saint Etienne Bob Stanley and Pete Wigg) on 7' pink vinyl in 1993. This and their following single 'Bouffant Headbutt' received favourable reviews in the music press, such as the NME and Melody Maker, but was largely ignored by the general public.

Whilst their first two singles were all-out girl-punk racket, the following year saw the release of their most famous song, 'Trouble' and the album 'We Are Shampoo' which displayed a much more radio friendly sound. 'Trouble' crashed up the charts and landed the girls on Top Of The Pops and the cover of Smash Hits. For the remainder of 1994 the Shampoo flag flew high, as their infectious pop-with-attitude found fans in both the mainstream and alternative music scenes. The band famously became very successful in Japan - possibly due to sharing a love of all things Hello Kitty. "Trouble" became famous for its inclusion in the soundtrack to the film, Mighty Morphin' Power Rangers: The Movie.

However, by the time they released their next album 'Girl Power' in 1995, they were already virtually forgotten in Britain. The phrase comes from a 1993 Helen Love record, and was later made very famous by the Spice Girls.

Whilst their homelands were ignoring them, Shampoo were still doing well in Asia and - to the astonishment of those who'd never heard of them - made it into 1995's 'richest women in Britain' list. The third Shampoo album 'Absolute Shampoo' was released solely on the internet in 2000, and the duo disbanded shortly afterwards.

Shampoo combined a poppy girlishness and a love of all things plastic, kitsch, and pink (the album artwork for 'We Are Shampoo' featured a collage of Barbie dolls and sweet wrappers) with a punk sensibility. They often cited their main influences as being the Sex Pistols, Gary Numan and the Beastie Boys, whilst also claiming to be huge fans of East 17 and Take That. They approached interviews with a studied insolence and tended to finish each other's sentences, claiming that they always thought exactly the same thing. Playing on an image that was part Johnny Rotten, part stubborn lolita infantilism, part lipstick lesbian and part razor-sharp wit, Askew and Blake tended to confuse both journalists and record-buyers as to who exactly was their target audience. Whilst this may have prevented longlasting mainstream success, it was also arguably their greatest strength in an industry increasingly dominated by easily-digested, two-dimensional artists.
External Links