Sara Bareilles : Bio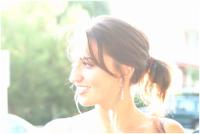 Sara Beth Bareilles (December 7, 1979) is an American singer-songwriter and pianist. She achieved mainstream success in 2007 with the single "Love Song", which brought her into the Top 10 on the Billboard pop charts. She has been compared to Fiona Apple and Norah Jones despite her lack of formal training in either voice or piano.

After graduating from college in 2002, Bareilles performed at local bars and clubs, earning a following, before performing in larger venues. She issued two demos of mostly live tracks in 2003: The First One in April and The Summer Sessions in October. In 2004, she appeared as a singer in a bar in the indie film Girl Play, performing the song "Undertow".

In January 2004, Bareilles released her first studio album, Careful Confessions. She signed a contract with Epic Records' A&R executive Pete Giberga on April 15, 2005. The remainder of the year and early 2006 was spent writing and reworking songs for her upcoming album.

In 2007, Bareilles toured as the opening act for Aqualung and Mika. In mid-2007 she opened for Rocco DeLuca and the Burden during their inaugural headline tour and co-headlined a tour with Jon McLaughlin. In late-2007, she opened for several shows on both Maroon 5 and Paolo Nutini's U.S. tours.

In June 2007, iTunes featured Bareilles' single "Love Song" as the free single of the week. The following month, her major-label debut Little Voice shot to #1 on the list of most downloaded albums of the music store in its first week of release, and debuted at #45 on the Billboard 200 chart. After being featured on a Rhapsody commercial in 2007, "Love Song" began climbing the pop charts, jumping from #73 to #16 in one week. As of December 27, 2007, "Love Song" has entered the top 10 on the Billboard Hot 100.