Quiver : Bio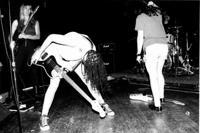 One of the notable All-female bands from Los Angeles, California. This quartet played original groove-oriented art-punk in the 1990's. They achieved local success in the L.A. club circuit.

Quiver released a 7" vinyl EP on Know Records entitled "Miss Betty" in 1993. The same year, Quiver also appeared on the Homeboy Records CD compilation of local bands entitled "Blackout L.A.". They received air-play on the local college radio stations such as KXLU, and Rodney Bingenheimer's radio show on KROQ. The band also garnered great reviews.

Their final show was in 1998.