Poppy And The Jezebels : Bio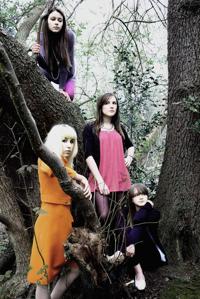 Poppy And The Jezebels are a Birmingham based four piece who take healthy influences from The Slits, The Raincoats and Sparks. With debut single NAZI GIRLS / PAINTING NEW YORK ON MY SHOES, this bunch of fifteen year olds make a sugar sweet indie pop noise, a little self consciously quirky perhaps, but charming stuff nonetheless.
Its the Slits and Raincoats influences that shine through the loudest here, NAZI GIRLS in particular sounding like a long lost song from either of those bands; vocalist Mollie Kingsley Jezebel crooning innocently over pounding piano chords and simplistic drum beats. The more intriguing PAINTING NEW YORK ON MY SHOES finds Poppy And The Jezebels delivering something slightly more compelling, lush piano chords running under more evocative melodies, the band moving away from the more novelty like aspects of NAZI GIRLS.
A decent sounding debut, Poppy And The Jezebels have the tendency to sound a little too self consciously quirky and skate a little too close to novelty hit territory in places here, but NAZI GIRLS / PAINTING NEW YORK ON MY SHOES is an ultimately intriguing and addictive sounding experience.