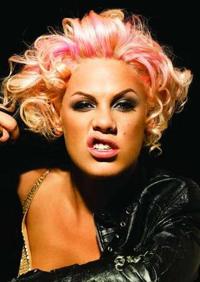 Theres more than one colour to Pink.


I hope this album shocks people who think they know who I am or what Im about says the feisty 22-year-old. Her debut album last year was an out-of-the-blue double platinum smash within the US and gained platinum and Gold discs around the world. Cant Take Me Home spun off three Top 40 hits, two of them Top 10, one gold. Along the way, she also scored a #1 smash hit in a sensational teaming with three of the other hottest new female stars of the new millennium. Yet they only gave an inkling of the power of Pink.


On M!ssundaztood, Pink unveils a stunning new voice on the music scene, a phenomenal singer-songwriter voice, a voice that rocks, a voice of unabashed freedom - her own true voice.


I have faith people loved the last album not because it was the sound of the day but because they felt the strength of a young woman not afraid to express herself. There are so many lost kids not into teenybopper garbage. Im one of them, and I want to reach out my hand. Im not in this for the entertainment business. Music should be much bigger than that.


With M!ssundaztood, Pink is sure to astonish her legions of dedicated fans as well as critics who applauded her boldness but expect the same R&B pop they heard on 2000s Cant Take Me Home. I love unpredictability. I do what Im told I cant do; its a challenge. Im a big dreamer.


Pinks musical ambition for M!ssundaztood - real music you can live or die to, songs that make you want to stand up and change your life - was greeted at first blush with skepticism, even by her new collaborator, Linda Perry, formerly of the groundbreaking 4 Non Blondes. Im sure she saw this pink-haired diva thing and didnt know if there was any depth there at all.


As a teenager, Pink sang 4 Non Blondes songs at open mike nights: I wore the hats and combat boots. I could even sound like her. I thought I was her! Early this year, after discovering her heros number in a makeup artists phone book, Pink left a 15-minute message including a story about being arrested for belting out Perrys songs at 3am. I told her if she didnt return my call, Id be her stalker. She called and said, Youre crazy, youd better come over.


They sat on the floor of Perrys Los Angeles home and wrote Eventually in minutes. Over the next month, they talked, wrote songs and got tattoos. Amazing, liberating, inspiring, what making music should be like.


Pink also enlisted other co-writer/producers - fellow Philadelphian Scott Storch (The Roots, Dr. Dre), Dallas Austin (TLC, Madonna) and Damon Elliott (Bone Thugs N Harmony). The first single, Get The Party Started, is merely the bridge to Pinks New World. The old school analog M!ssundaztood oozes with raw emotion, from the sugarless romance of Eventually and Just Like A Pill to the heart-wrenching Dear Diary and Family Portrait; from the introspective My Vietnam and the title track to the rock anthem Dont Let Me Get Me.


I know why there was the last album - to get to this album. The first one was me but I didnt think it showed all of me, it didnt show what I could do. I longed to truly feel a connection with my music and the audience. I have a vision and know what I want. Now I have a band. I cant wait to play my new music live.


A grand, hopeful vision of music that embraces instead of segregates is not new to Pink. She has sung gospel in an all-black church and been the only girl in a punk band. She sang background for the rap group Scratch N Smoove (whose Scratch became a member of The Roots and also is heard on M!ssundaztood) and was a skateboarding club kid with a Friday night spot at Phillys Club Fever. There she was spotted by a talent scout and recruited for first one R&B group and then another. She was just 16 when the latter was signed to the LaFace label of L.A. Reid and Babyface. They later inked her as a solo artist and produced Cant Take Me Home.


I was probably the oldest teenager who ever lived. I never had friends my own age. My best friend was an 85-year-old woman who lived across the street until my parents split up when I was seven. My dad is a Vietnam vet and he raised me in reality. Thats why I dropped out of high school. How could I stay someplace where the most important thing was where you got your shoes?


She worked at Pizza Hut, McDonalds, Wendys, and a gas station. She was never on time, hated taking orders. She listened to Janis Joplin, Jimi Hendrix, Billy Joel, Guns N Roses, Green Day and 2Pac. She no longer wrote in her diary - after a girl in high school stole it and pasted the pages up on lockers - but she wrote poetry trying to understand what was going on inside of her: I was screwed up, lost and unhappy.


Along the way, Alicia Moore earned her nickname, first for her complexion as a child, then for the colour of her face when embarrassed and finally after the outgoing Mr. Pink in Quentin Tarantinos Reservoir Dogs. Her hair had been tie-dyed, tinted blue, cornrowed, etc. She thought it would be funny if Pink also had pink hair.


Then came Cant Take Me Home. Its debut single, There You Go, went gold and Top 10. Most Girls followed it into the Top 10, as did You Make Me Sick. Pink also earned an MTV Video Music Award nomination for Best New Artist. Joining Christina Aguilera, Lil Kim, Mya and Missy Misdemeanor Elliott for their cover of the LaBelle 70s smash Lady Marmalade for the Moulin Rouge soundtrack, she enjoyed her first #1 hit. MTV named that tracks clip Video Of The Year and Best Video From A Film.


Before, I wanted to throw my success in the face of every teacher who told me I wouldnt be shit. Now its Im so happy I can do what I love and not answer to some asshole boss. If not for music, Id be in trouble all the time. Music saved my life. It still does. This album saves me.


She hopes her voice also gives voice to a new generation. We never had to fight for anything. It shows in the music; its just surface music. I want to open up minds, break stereotypes - in music, sex, everything. The world is ready to grow up.


Even, she says, if growing up is painful. In Family Portrait, she paints a not-very-pretty picture: A child raised by two parents who fought all the time and eventually divorced. When she played the song back in the studio, she had to leave the room. I realized how my entire life was affected, and to listen to that song was like being naked in front of an auditorium of people. I let my mom listen and she cried for days; my dad too. It makes me sad but it also helped release some of their feelings. Pain is not always a bad thing, it can be a learning thing.


Growing up was her generations Vietnam. Given the events of September 11, however, My Vietnam has taken on added meaning. As a kid, she and her father would help feed the homeless, including many Vietnam vets. She heard their stories, visited The Wall in D.C., saw their brotherhood. She respected what they fought for and still does.


Pink is fighting too, by being bluntly honest and celebrating life and freedom, without anger or angst. Instead of becoming a victim, she has learned from her experiences and she shares them in her music. What I needed growing up was to hear Janis tell me everything was alright and for Nirvana to tell me I could express myself. Im just a goofy-ass girl but thats what I want to do for the kids who listen to me.


Pink is no longer about the hair, which isnt as pink as before. Pink is about the songs and their shocking emotional openness.


Know what was the best thing that happened to me the entire year? A 45-year-old woman and her daughter came up and it was the mother who wanted an autograph. She told me how I had helped her through her divorce, and how she and her daughter both loved my music and how sharing that had saved their relationship. Thats more than I can do for myself.


Theres no misunderstanding. As the lady says, We are all pink on the inside.