Pain Killer : Bio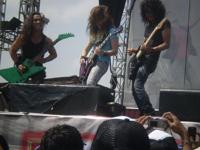 Pain Killer is a leading front lady rock band from Indonesia.
Front person is Tashea Nicole Delaney a.k.a Tash, she is the lead vocals and lead guitarist in Pain Killer.
Pain Killer was formed in 2004 but has changed in a variety of ways throughout the years.
Pain Killer started off by doing Iron Maiden and Metallica covers. Tashea slowly began writing and composing her own material - til where she stands today.
Influenced by Joan Jett, Hole, Led Zeppelin, AC/DC, Hendrix, Motley Crue, Metallica, Skid Row, Black Sabbath, Poison, Black Label Society and many others combined, introduces a wildly genre'ated formed rock band called Pain Killer.
Today Pain Killer has released one Indie album and now their 2nd album is in the process. Pain Killer is in the studios right now recording their new material. It's gonna definetley be much rockier and oldskool; after all, major influences of Tashea are Classic Rock bands from the 60's-80's...also some early 90's grunge/alternative.
So, Pain Killer is a little mix of all kinds of rock.
Anyways, hope that you enjoy!
External Links