Natasha Bedingfield : Bio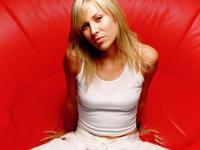 With a number 1 single in America, a number 1 UK debut album, and over 6.5 million units shifted worldwide, Natasha Bedingfield is the UK..s biggest female pop star bar none - a bold, beautiful home grown answer to US Uber-Divas Christina Aguilera and Pink.

Natasha took the US by storm last year with the first British chart topping hit by a female in almost twenty years. Vanity Fair singled her out as the spearhead of a new Britpop invasion; she became one of the faces of Gap (alongside Mia Farrow and Common); she was invited by her hero Prince to jam with him at a private party; Bono enlisted her for his (RED) campaign; and her song Unwritten proved to be the most played song on mainstream American radio in 2006.