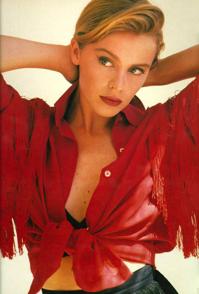 Kylie Minogue is a phenomenon of truly international proportions. To date she has released nine albums, six long-play videos, in addition to the Greatest Hits double album and video package, live album and video and 39 singles throughout the world, all of which have been hits.

Kylie has been the guest of Royalty in Britain and Europe, and the subject of several invitations for Royal Command Performances as well as the Lennon Memorial Concert in Liverpool in 1990. She has embarked on four sell-out world tours, including the critically acclaimed Intimate & Live concert tour and more recently her Fever 2002 tour which resulted in packed arenas throughout the UK, Europe and Australia.

In June of 1991, after the release of her 13th hit single, entitled Shocked, the British industry "bible" Music Week magazine declared that Kylie was the ONLY act in the history of the British pop music to have their first 13 releases all go Top 10. Kylie now has 30 consecutive U.K. hits, none of which failed to peak in the Top 20, 20 in the Top 10!

Today Kylie is one of the world's most successful female music artists, but she wasn't always known as a singer. Kylie started her career at age eleven when asked to act in the national Australian T.V. drama series Skyways, this was followed by more Australian television roles in the popular drama The Sullivans and later The Henderson Kids.

After her seventeenth birthday Kylie left school to take up acting as a full time profession. Her character "Charlene" in the Australian "soap" Neighbours is still today, arguably, one of the most popular characters ever to come out of Australian television.

By the time Kylie was out of her teens she had won five Logies (the Australian equivalent of an Emmy); the youngest actress ever to do so. In 1987 she won the Silver Logie for "Most Popular Actress" and in 1988 she was the first artist ever to win 4 Logies on one night, including the Gold for "Most Popular Personality on Australian Television", and another Silver.

Kylies recording career began in 1987 when she released her first single, a remake of the '60's Little Eva hit "Locomotion". The song hit No.1 nationally around Australia and remained there for seven weeks, becoming the biggest Australian single of the decade. The success of Locomotion led to Kylie teaming up with famed British record producers Stock, Aitken and Waterman in London.

Kylies eponymously titled debut album, released July 1988, contained the hit singles I Should Be So Lucky, Got To Certain, a re-recorded version of The Loco-motion and Je Ne Sais Pas Pourquoi. It sold over 5 million copies worldwide. Her duet with Jason Donovan, "Especially For You" debuted at #2 and shipped silver on release bringing Kylie's single sales in the U.K. to well over 2 million in under 12 months.

In October 1989 Kylie released her eagerly awaited second album "Enjoy Yourself" which shot to No.1 in the U.K. with pre-sales of over 600,000 copies. The album spawned 4 worldwide hits including the No.1 singles Hand On Your Heart and Tears On My Pillow.

In December Kylie's first feature film The Delinquents was released around the world to rave reviews and became the top grossing movie in the U.K. Also that month, Kylie joined the likes of Bob Geldof, Lisa Stansfield, Bananarama, Bros, Cliff Richard, and Wet Wet Wet for Band Aid 2's 1989 recording of "Do They Know It's Christmas" to raise money for Ethiopia.

Two more albums - Rhythm Of Love and Lets Get To It - and more classic singles - Better The Devil You Know, What Do I Have To Do, Shocked - followed before the release of Kylie's Greatest Hits in 1992. The album collected all 19 hits along with three new songs and debuted at #1 on the UK charts.

On her move from PWL to the dance label Deconstruction, Kylie effectively made the difficult transition from "Pop Princess" to "Career Artist", a delicate move very few artists have been able to make successfully.

September 1994 saw the release of her album simply entitled "Kylie Minogue". Greeted with much critical acclaim the album debuted at no. 4 in the U.K. All three singles released from the album became worldwide hits.

Kylie's third duet "Where The Wild Roses Grow", a "Murder Ballad" penned by Nick Cave and recorded with Nick and his band The Bad Seeds was released internationally in 1995, becoming her 25th consecutive hit peaking at No. 2 in Australia and 11 in Britain.

In 1994 Kylie had a lead role in the $40 million dollar epic Streetfighter with Jean Claude Van Damme, and in 1995 she starred in a short film entitled Hayride To Hell shot in Australia for the European Film Festivals. 1996 saw the release of a comedy called Bio-Dome for the producers of Dumb & Dumber in Hollywood with Pauly Shore and Steven Baldwin and in 1998 Kylie starred in an Australian independent film called Sample People; and alongside Molly Ringwald in Mushroom Pictures horror film Cut. Earlier in 1999 she also found time to appear in a Caribbean production of Shakespeare's The Tempest for which she received rave reviews.

Kylies sixth studio album Impossible Princess (aka Kylie Minogue) was released in March 1998. With all lyrics by Kylie Minogue, Impossible Princess, featuring collaborations with The Manic Street Preachers, Brothers In Rhythm and Dave Ball (Soft Cell, The Grid), became yet another No 1 for Miss Minogue (Australian Music Report).

Kylies list of collaborations extend to the successful cult underground dance track G.B.I. recorded with leading Japanese artist Towa Tei (of Dee-lite fame); a track called In Denial with the Pet Shop Boys for their album, a duet with Ben Lee on The Reflex for a Duran-Duran tribute album, and the famous duet with Robbie Williams, Kids which debuted at No. 2 in the UK charts!

October 1999 saw Kylie release a collectible art book featuring contributions from many of the world's most respected artists, on the theme of "Kylie". Demand for the book was unprecedented with a second printing within the first month of release!

June 2000 saw the much anticipated release of Spinning Around the first single from Kylie's debut studio album for Parlophone Records. In true style she caused a sensation by debuting at Number 1 in both the UK and Australian charts. Spinning Around also gave Kylie the honour of being one of only two artists (the other being Madonna) to have a number one in the eighties, nineties and noughties!

September 2000, Kylie released the follow up single, On A Night Like This repeating Spinning Around's success by debuting in the UK charts at #2 and Australian charts at #1. Kylie's most anticipated album yet, Light Years, was released at the same time to massive critical & commercial success debuting at #2 in the U.K. and reaching #1 in Australia (double platinum!)

Kylie performed to her biggest audience ever at the closing ceremony of the Sydney 2000 Olympic Games! Kylie thrilled more than 4 billion viewers with her rendition of Dancing Queen and On A Night Like This. Less than two weeks later she headlined the opening ceremony of the Paralympic Games.

Kylie ended a phenomenal year with the release of a fourth single from "Light Years", "Please Stay" on December 11th, as well as a prestigious appearance at the Royal Variety Performance. The top 10 hit "Please Stay" was Kylie's 33rd hit single and her 20th UK Top Ten hit.

In January 2001 tickets went on sale for Kylie's first major tour in nine years. The "On A Night Like This" tour sold out immediately for shows in the UK, Europe and Australia, where the tour became the most successful arena tour by a female artist EVER. The tour was no less successful in the UK, where the capacity doubled to accommodate the huge number of ticket applications.

The tour garnered rave reviews in the press, with the NME declaring that "the hits wheeled out tonight are pop at its most exciting" and the Guardian writing that the show was "utterly fabulous".

By now "Light Years" was platinum in the UK and 4 x platinum in Australia, where readers voted her "Best Pop Artist" in Australian Rolling Stone. Back in the UK, Kylie was nominated for a prestigious Brit Award for Best International Female. She later took time out to attend the LA premiere of the film "Moulin Rouge", in which she features as the Green Fairy.

In May, British Vogue put Kylie on its cover, an event that made the evening news in Australia. Later, at Vogue's "It's Fashion" party, Kylie was seated on the top table, next to Prince Charles.

September 2001 saw the Kylie phenomenon reach fever peak with the release of her global smash hit Cant Get You Out Of My Head from the multi-platinum selling album Fever. The album generated a further three smash hit singles In Your Eyes, Love At First Sight and Come Into My World and sold over six million copies worldwide.

Kylie garnered a host of major awards including Top of The Pops Awards for Best Tour for On A Night Like This and Top Song for Cant Get You Out Of My Head, 3 Italian Dance Music Awards for Best International Artist, Best Song and Best Video, an NME Award for Best Pop Act, and Showbusiness Personality of The Year at the Variety Club of Great Britain Awards.

Kylie stole the show at the 2002 Brit Awards with an incredible performance of Cant Get You Out Of My Head and won two major awards for Best International Female and Best International Album. At the World Music Awards in Monaco, Kylie delivered another show stopping performance to an world-wide audience of a billion people and was honoured as Best Selling Australian Artist of The Year.

In the spring Kylie embarked on her most ambitious live tour to date. Kylies Fever tour kicked off in Cardiff in April 2002 before moving on to Manchester, Birmingham, Sheffield, Glasgow, Newcastle and London. Tickets to the 25 date tour sold out within minutes of them going on sale and The Manchester Evening News presented Kylie with a plaque in recognition of having the most number of shows by a solo artist to sell out the Arena EVER!

Kylie took her Fever! tour to Sweden, Norway, Denmark, Germany and Holland, and then on to Australia in August where she sold out six nights at Sydneys Entertainment Centre and a further six nights at the Rod Laver Arena in her native Melbourne.

Kylie was awarded Woman Of The Year 2002 at the Elle style awards while the record-breaking Cant Get You Out Of My Head garnered 3 Ivor Novello Awards for Best International Single, Best Dance Record and Most Played Record of The Year, and scooped an MTV Award for Best Choreography in a Music Video.

Kylie swept the board at the ARIAs winning 4 awards including the first Special Achievement award! Just weeks later Kylie triumphed at the 2002 MTV Music Awards Best Pop Act and Best Dance Act and stole the show at Top of The Pops Awards with a stunning performance of Come Into My World and a second award for Tour Of The Year for Fever 2002.

November 2002 saw the highly anticipated release of the Fever 2002 Live DVD and the book Kylie: La La La. Written in collaboration with her artistic director Will Baker, La La La documents Kylies remarkable career and includes over 300 photos, most of which have never been seen before.

In 2003 Kylies lingerie range, Love Kylie, was launched in the UK in Selfridges to a massive media frenzy and incredible sales. Demand far exceeded supply with Selfridges doubling their orders to cope.

Kylie was awarded a Centenary Medal by the Governor General of Australia for Outstanding Contribution to the Music Industry and for the third year in a row won Australian Performer of the Year and Showbusiness Ambassador of the Year for the second consecutive year at the 28th Annual MO Awards in Australia.
In May 2003 Kylie appeared in the Rambert Dance Company project, 21 choreographed by Rafael Bonachella (On A Night Like This Tour, Fever2002 Tour) in a short black & white filmed piece.

In June Kylie is voted the sexiest pop pin up in the world by viewers of music channel VH1 and her Agent Provocateur commercial wins Best Cinema Commercial of the Year at the British TV Awards.

Kylie spent the summer of 2003 recording her ninth studio album, Body Language in London, Ireland and Spain. Body Language was released in various territories on 17th November 2003. It was preceded by the hypnotic single Slow, written by Kylie Minogue/Emiliana Torrini and Dan Carey which debuted at number 1 in Australia and the UK.