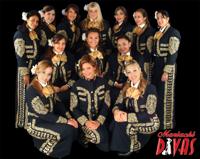 Founded by Cindy Shea in 1999, the all-female Mariachi Divas are continuously making big waves on the Los Angeles music scene. Mariachi Divas is a unique, multi-cultural ensemble, and over the years has been represented by women of: Mexican, Cuban, Samoan, Argentinian, Columbian, Panamanian, Puerto Rican, Swiss, Japanese, and Anglo decent. Founder and Director Cindy Shea states, "Music is a way of uniting our cultural backgrounds."
riachi Divas has been featured at the Arrowhead Pond, Universal Amphitheatre, Staples Center, Greek Theater, Santa Barbara Bowl, the LA Forum for the 2005 "Premio La Gente" Live TV Awards Show and the LA Shrine at the 2006 Alma Awards.They have also accompanied Grammy winning artists such as: Joan Sebastian, Jenny Rivera, Marco Antonio Solis, Pablo Montero, and Paulina Rubio. In 2001, 2002, 2004, 2005 and 2007 the Divas have showcased their innovative sounds at the NAMM SHOW in Anaheim, CA. Recently the Divas were invited to perform at the Tucson International Mariachi Concert, Fresno Radio Bilingue Mariachi Show and the Santa Barbara Bowl where they had the honor of performing with Mariachi Vargas and Nati Cano's Mariachi Los Camperos. Mariachi Divas performed, and were featured as one of the main televised acts, for over 500,000 people on the streets of downtown Los Angeles at the largest "Cinco de Mayo" celebration in the world-The 14th and 15th Annual Fiesta Broadway 2003 and 2004. They have appeared at the L.A. County Fair numerous times including the most recent in September 2003 performing as part of the famous Mariachi USA. The Divas have not only traveled throughout the USA including performances in Utah, Idaho, and Wyoming, but also performed in Tampico, Mexico in 2004. Mariachi Divas has performed four times at the John Anson Ford Theater including a celebration of the "Day of the Dead", a "Women in Jazz" concert in 2004, 2005, and 2006 put on a show in which they were the headliners. The Divas also appear in the recently released documentary "Viva El Mariachi".
Mariachi Divas have made several television appearances on shows such as: Despierta America, Control, Vista LA, Primer Impacto, Escandalo, LATV's "Adelante Hispanos", Sabado Gigante, Off the Roof, De Todo Un Poco, BBQ with Bobby Flay, Primera Edicion, Atrevete, Futbol Mania, 12 Corazones, Bienvenido a Casa, and recently took roles as actors as they took part in two independent films, "Dead Man's Shoe" and "La Dentista" where the music from their CD was used as the movies' soundtrack. The Divas are also now proud to announce the National release of their 3 CD's through "East Side Records" which will be releasing throughout the United States June 26, 2007.
In September 2003, Mariachi Divas began performing and continue to perform every week for audiences of all ages while strolling throughout the streets of Disneyland and California Adventure in Anaheim.
Mariachi Divas musicians' are currently endorsed by LP Percussion, Zeta Music, IntellitouchTuners, Soundback Acoustic Monitors, CodaBow International, Marcinkiewicz, and LPD Music.
Never stepping too far from what brought them together, the sound of mariachi rings though every song that is played no matter what style of music they choose to perform.