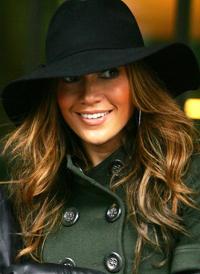 Jennifer Lopez was born in New York City, on July 24th, 1970. The daughter of David, a computer programmer, and Guadalupe, a kindergarten teacher, the young Lopez always dreamed of becoming a performer.

With talents in singing and dancing, Jennifer started to perform in stage musicals, dancing in a European tour of Golden Musicals of Broadway, a Japanese tour of Synchronicity, and local productions of Oklahoma and Jesus Christ Superstar.

flying to new heights

The young girl from the Bronx would finally become more recognized when she was cast as one of the "Fly Girl" dancers on Fox's In Living Color. What Lopez was really itching to do was act, but she stuck around on In Living Color for a short while, following producer Keenan Ivory Wayans' advice. Jim Carrey was not the only star in the making on In Living Color; Ms. Lopez was yet to arrive on the scene.

Jennifer's "Fly Girl" role led to more roles on the small screen. She landed a recurring role on Fox's short-lived series South Central after one of her Color co-workers referred her to her South Central writer and producer husband.

Although the show did not last very long, Jennifer was seen on television again, this time as "Melinda Lopez" in the made-for-TV movie, Second Chances. Her portrayal of the part was so impressive that big-league producer Aaron Spelling wanted to continue the role on another one of his series, Malibu Shores. After appearing in a mere few episodes, Jennifer refused to develop the deal further (the show was axed anyhow), with the hopes of taking her talents to the silver screen.

some flops along the way

One more made-for-TV role can be seen on Jennifer's resume; Rosie the nurse, in the 1993 movie Nurses on the Line: The Crash of Flight 7. Her role in the 1995 film Mi Familia, about the lives of Mexican immigrants in Los Angeles from the 1930s to today, was the role which showed filmmakers that this Latin beauty was serious about acting.

One year later, Jennifer co-starred with Robin Williams in the box-office disaster Jack, beating out Ashley Judd for the role. In her next film role, riding the Money Train with Woody Harrelson and Wesley Snipes, she was the only one to receive positive reviews in a film that may have well tipped off the tracks.

Having already worked with Jennifer in the critically acclaimed Mi Familia, Gregory Nava asked Lopez to audition for his 1997 biopic on the slain Tejano singer, Selena. After an intense auditioning process, Jennifer won the role that was to make her a star.

breaking through from the bottom

That same year, Ojani Noa (her boyfriend at the time) publicly proposed to Jennifer at the wrap party for Selena. Their marriage lasted a year.

Meanwhile, 1997 marked a full year for Jennifer, with film roles in U Turn, Anaconda and Blood and Wine. The following year, she co-starred with George Clooney in Out of Sight, playing a US marshall. This was the role that made Jennifer an A-list actress, beating out other A-list actresses for the role in the process. Her next project was as an animated ant in the DreamWorks feature Antz, also with Sharon Stone.

Not only is Jennifer the only Latin actress in history to demand a $1 million salary, but she has also released an album entitled On the 6, which went platinum and spawned such hits as "If You Had My Love" and "Waiting for Tonight."

After a role in the sci-fi flick The Cell in 2000, Jennifer returned to the music scene with her megasuccessful sophomore album, J.Lo, in February 2001. While the album title (and probably Sean "Puffy" Combs' pet name for Jennifer) stuck, the album itself claimed the number one spot on the charts on the strength of the first single, "Love Don't Cost A Thing."

it's j-lo day

Jennifer also made history as the first female artist to have a number one album and movie in the same week, as seen when The Wedding Planner debuted at number one and had audiences rushing to see J-Lo in the starring role.

While her relationship with P. Diddy, formerly known as Sean "Puffy" Combs, fizzled (and he stood trial for gun possession and bribery charges after an incident in December 1999), J-Lo was seen in the arms of an unknown new man, Cris Judd. The couple met in January on the set of her "Love Don't Cost A Thing" video, as Judd is one of the featured dancers in the video.

Jennifer has also enjoyed the success of the singles "Play" and "I'm Real" (both an original and remix version with Ja Rule) off J.Lo, and as if she hasn't dominated enough fields, she also released her own fashion line in 2001 -- Sweetface fashions -- designed for all her fellow full-figured sisters.

Often the subject of media tabloid stories and jokes, Jennifer is known for her publicized romantic relationship with P. Diddy, her revealing style (as seen in a certain Versace dress at the Grammys and a see-through Valentino gown at the Oscars), and her allegedly insuring her prized possession -- her behind -- with a $1 billion policy (a rumor she dispels).

Jennifer has received many awards, including a Blockbuster Entertainment Award nomination for Best Actress in Anaconda (1997), a Golden Globe Award nomination for Best Actress in a Comedy or Musical for Selena, and an MTV Movie Award nomination for Best Actress for Selena.

In 1999, she won the VH1/Vogue Fashion Award for Most Fashionable Female Artist. She also received a Latin Grammy nomination for a duet she did with Marc Anthony, as well as the MTV Video Music Award for Best Dance Video, for "Waiting For Tonight," in 2000.

Named Female Entertainer of the Year by ALMA in 2000, this was only a sign of things to come for the Puerto Rican beauty, who has also become a spokesperson for L'Oreal, along with Jessica Alba.

To the chagrin of men worldwide (and P. Diddy), the screen and music queen wed Cris Judd on September 29, 2001, after less than an 8-month romance.

Last seen in Angel Eyes, FHM's Sexiest Woman in the World for 2001 will next be seen in the film Enough.