Liliths Army : Bio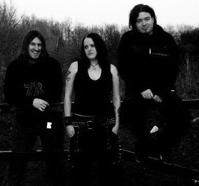 Liliths Army formed in 2004 consisting of Sylvie Truman (Vocals / Guitar), Chris Whitley (Drums) and Adam Ray - aka Shorty (Bass). Armed with an albums worth of material the three-piece rock band began their hectic 2005 series of gigs in March kicking off at the Attik, Leicester. Throughout the year the band gigged at a number of venues including; The Charlotte Leicester, The Soundhaus Northampton, The Lark in The Park London, The Swan Nottingham, Sawyers Kettering, The Cellar Milton Keynes, as well as organising an all-day music event for CLIC Sargent in September 2005. The band completed their debut album Feel The Rage in April 2005 alongside Sound Engineer Angus Wallace (who has previously worked with the likes of The Prodigy, The Fall, Toyah Wilcox and the Stranglers).

A limited number of the 10-track CDs were pressed by Kriminal Records. Following which the band held their CD launch party at The Attik Leicester. During their 2005 series of gigs, the band attained a wealth of media reviews from numerous fanzines and magazines including; Dive Music Magazine - UK, Diva Magazine (listed in the top 5 dyke-demos) UK, Zabadak France, as well as attaining radio play on internet and independent stations in the UK.

During the Summer of 2005, the band worked alongside MYM Productions to produce a music video to the track Shes a Schizophrenic which was directed by Matthew Williamson and Joe Evans, a limited number of DVDs were made of the video which is available via the Liliths Army Web Site. The music video was aired on "Unsigned TV" in the USA. Towards the end of 2005, the band concentrated on writing material for their second album Liliths Army which was recorded in February 2006 at Fit Dog Studios, Northamptonshire. Selected Tracks taken from the recording will be available on a 7 track EP to be released later this year via Fitdog Records.

The EP album has already received reviewed from fanzines including Bubblegum Slut, UK and Zabadak, France and has recieved radio play on Kerrang radio, Total Rock Radio and Wolf Radio. 2006 saw the band expand their gig base to London, Birminghamand Coventry. Following Shorty's departure from the band in September, the band were joined on bass by Rafe and the E.P "The Devil Within Me" was recorded in late October. Rafe left the band in November of 2006 due to personal circumstances and the band were joined on bass by Jon Coldicott in January 2007. A number of gigs throughout the UK are planned for this year.