Lahannya : Bio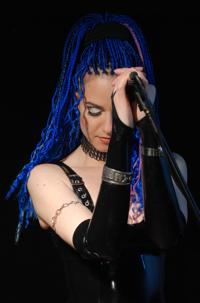 Lahannya - the voice of industrial club act Soman and resident DJ at London's Slimelight club - is now presenting her own project, which she wryly describes as dark alternative rock flirting with electro. Her forthcoming album 'Shotgun Reality' has shed the eclectic kitchen-sink sound of her debut EP and comparisons with Throwing Muses and Lush have given way to the likes of Lacuna Coil and Garbage...

Lahannya's first release was a compilation track on US underground noise label Zenflesh, brought about by a chance meeting in a New Orleans voodoo shop between Lahannya and Zenflesh artist Jim Kaiser. Jim showed label owner Destin Leblanc Lahannya's demo and he was instantly charmed by the eclectic lo-fi quality of 'Drowning'. Soon after 'Drowning' was released amidst the aural assault of Noise/Girl and the nightmare soundscapes of Petit Mal.

Inspired by her first release, the positive feedback and the Zenflesh way of just doing it, Lahannya recorded more material for a debut EP with a new version of 'Drowning' as the title song. Not interested in chasing rainbows she instantly forsook finding a label for creating her own: Kabuki. The 'Drowning' EP did well for an underground release, but it needed live performances to take it to the next level. These, however, were not meant to happen until a few years later...

Instead, Lahannya became increasingly sought after as co-writer and guest vocalist. Her first collaboration was with Greenhaus on their 2003 album 'Another Life', which received much praise from fans and press alike. After 'Another Life' Lahannya began her collaboration with Soman, which she is best known for to date. Together they recorded club hits like 'Tears' and the remix of Combichrist's 'Sex, Drugs and Industrial', and performed live at festivals such as M'Era Luna, WGT and Summer Darkness.

At M'Era Luna 2004 a chance encounter with Lutz Demmler of controversial German goth-rock band Umbra et Imago provided the trigger for Lahannya's return to her own material. A brief acquaintance turned into fast friendship and soon after the decision to work together on the next Lahannya album. The result is the 12-track album 'Shotgun Reality', which will be released Europe-wide this July on Kabuki. On stage Lahannya is joined by Lutz on bass, Belle on drums and Chris Milden on guitar.

Lahannya can also be seen Djing regularly at the London Slimelight club as well as at various industrial and electronic club nights both in the UK and abroad. Her DJing style ranges from industrial and powernoise to dark techno and hard electro, although depending on venue and event she also gets booked for alternative and industrial rock sets.
External Links