Juliette and the Licks : Bio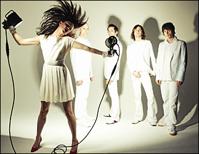 "The prototype for a female is that they're desirable, pretty to look at, predictable and safe", says Juliette Lewis. "Thats why my music is so important to me, because its the antithesis of that, it breaks the mold." Such a statement should come as little surprise to anyone who has been caught up in the full heat and sweat of a Licks live performance, which has seen Juliette continuing to emanate the same elemental energy and disregard for convention shes done her whole life.

Despite a long-established film career that has seen her play some of celluloids most complex and striking heroines, music has always been a constant for Juliette. Whether listening to Steely Dan and The Who aged nine with her father, discovering Black Flag and Iron Maiden with her brothers, or playing Jimi Hendrixs Voodoo Child over and over on the set of Natural Born Killers. "My whole little creative juggernaut was comprised of three things", she explains. "Music, performance art and drama. Id been doing movies for fifteen years, I was really unfulfilled and as I was getting older, the necessity to do music was just getting stronger."

In 2003, she formed Juliette and the Licks; a five piece outfit whose guitarists, Todd Morse (from NY hardcore act H20) and Kemble Walters would prove a constant in its fledgling, revolving line-ups. Deciding that the live arena would be the best way for the band to discover its identity, J&TL hit the road appearing on the Vans Warped Tour in 2004, and opening for acts as diverse as Turbonegro, Social Distortion and Courtney Love. While the following year brought with it a hurricane of activity that saw the bands first studio releases (the Linda Perry-produced Like a Bolt of Lightening EP in march, swiftly followed in May by the self produced debut full-length, You're Speaking My Language), while a relentless touring schedule saw them play to over 500,000 people in over 20 countries.

Though the records showcased a growing diversity to the Licks sound, (taking in alternative pop, new wave and old school rock n roll), live, the band were proving themselves to be one concentrated burst of undisputed attitude and adrenaline, with their front-woman as its crackling nerve-centre.
"Music's a visceral experience to me", says Lewis of her live-wire stage persona. "Its right in your gut; its not intellectual or analytical. You just hear some drums and youre in the tribe! You either feel it or you dont."

If 2005 had seen the Licks establish an unshakable presence as a live act, then their first stable line-up brought with it the chance to develop as a song writing unit. Writing as they toured, the band concentrated on capturing their stage energy to provide a definitive Licks sound for the next record, the departure of their drummer at the end of the year left them drummerless once more. Luckily, the road had also seen their paths cross with someone who would play an instrumental role in the most important chapter of their career - Foo Fighters front man and former Nirvana drummer, Dave Grohl. Originally brought in to play on demos the band recorded at his 606 Studio in California, Grohl extended his stay for the album.