Jordin Sparks : Bio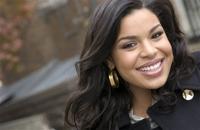 Jordin Brianna Sparks, born December 22, 1989, is an American singer, actress and 2007 American Idol Winner from Glendale, Arizona. She is the daughter of former NFL football player, Phillippi Sparks and Jodi Sparks. She has a younger brother named PJ (Phillippi Sparks, Jr.). Jordin has acted in many plays, including recently starring as both characters Deborah and Bea in Magdalene at the Plumbline Theater in Franklin, Tennessee.

Jordin has auditioned for the American Juniors and Star Search in 2003 before appearing in America's Most Talented Kids twice in 2004 and winning in her first appearance. She was one of seven to appear in a special championship edition of the show. She also appeared on American Idol on January 17, 2007, earning a gold ticket to appear in Hollywood and the so-called "fan" nickname "Ugly Betty." Some pundits have already named her a favorite to win the contest, hinted at by American Idol judge Randy Jackson's prediction that "Curly hair will win this year."

Jordin recorded an album titled For Now in 2003, a five-song album at the age of thirteen with Matthew Ward, a legendary Christian music artist and Gary Leach, an engineer who has worked on several of LeAnn Rimes' albums. She appeared in a compilation album titled Live at Mr. Lucky's in 2004. Jordin is in the process of writing and performing new material.

Jordin Sparks' audition, singing "Because You Loved Me".Jordin received a trip to the Seattle Auditions of American Idol Season 6 upon her win of the Fox 10 "Arizona Idol" contest. She was featured in the audition episode shown on January 17, 2007 singing the Celine Dion hit "Because You Loved Me." Simon criticized her for being too cute, but the judges were impressed with her overall, sending her on to the Hollywood Rounds of the show.

On May 23, 2007, Jordin won the coveted title of "American Idol" in Season 6. Blake Lewis was runner-up.

In Sept 2007 Jordin released her debut single "Tattoo" which currently garnering airplay at some of the biggest stations in the US. Her debut album was released November 20th, 2007 and has since attained gold status and produced three top 20 singles. Jordin is slated to return to the American Idol stage for 'Idol Gives Back' and the season 7 finale and will be on tour with Alicia Keys beginning in April.