Joana And The Wolf : Bio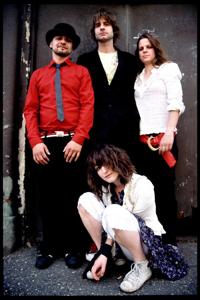 Joana And The Wolf.... yeah it's like Peter and the wolf only the story is very different. A long time ago on the night of the full moon Joana went to the forest and came across the wolf who was howling. She came closer to the wolf and said hey wolf can you teach me to sing that nice hooooowl. And the wolf said yes and asked her to open her pretty mouth, which she did and the wolf jumped in as if into a deep well. Since then, the girl wanders around with the wolf inside her and each time the moon is full she lets out a wild hoooowl.

And so 3 Years ago Joana came to London from her native Lithuania to seek out musicians- other boys and girls who had also swallowed a wolf. After performing a series of solo gigs, she advertised in newspapers, NME and so on but had soon spent all her money with nothing to show for it...finally, after resorting to free ads in Loot she was beginning to despair of ever meeting any other wolf children...when one day in January 2005 Ali Wolf saw her Loot advert listing Kate Bush and Bjork as influences...and soon Joana had found her guitarist.

Joana and Ali spent 5 months in hibernation honing their sound and gaining a clear understanding of what kind of band they wanted. In the summer of 2005 they added Louis Wolf (drums) and Katie Wolf (bass) and so in September 2005 Joana And The Wolf performed their first gig. In their live performances, the dark, stripped-down harmonic and rhythmic power of the band provides the perfect platform for Joana's sensational expressive voice and her raw, naked energy.

Having played storming sets at 2006's Great Escape festival in Brighton and at ULU supporting James Dean Bradfield, and having shattered chandeliers throughout London's premier venues with Joana's explosive voice, Joana And The Wolf have captured the hearts of many a fan whilst still managing to scare the hell out of a few cowardly souls.

They recorded their debut single in 2006 with Jim Abbiss (Arctic Monkeys, Editors producer) at The Chapel studios for Regal/Parlophone. 2 months earlier Jim and his then producees Kasabian had witnessed first hand the band attack the senses of a packed Water Rats crowd, after which Serge Pizzorno personally asked Joana to lend her voice on Kasabian's track 'Empire', which she duly did. Jim and the band decided to record set opener 'Purple Nights', backed by the infectious 'November'. The result is a punk/pop triumph which recently won Steve Lamaqc's 6 Music Rebel Playlist vote. Joana And The Wolf also performed a triumphant sunday set at 2006's prestigious 'Bestival' and more recently recorded a live session on John Kennedy's Xfm show.