Ingrid Michaelson : Bio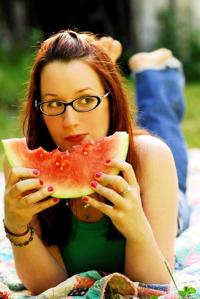 New York-based Michaelson's parents were both artists (composer Carl Michaelson and sculptor Elizabeth Egbert Director). She took up piano at the age of five, attending Manhattan's Third Street Music School for two years, going on to the Jewish Community Center of Staten Island's Dorothy Delson Kuhn Music Institute. There she met vocal coach Elizabeth McCullough, who worked with her through high school. She is a graduate of Staten Island Technical High School and Binghamton University, where she received a degree in theatre.

Her influences range from Fiona Apple to Coldplay. She regularly appears at Manhattan venues such as The Knitting Factory, CBGB's Gallery, Bar 169, The Sidewalk Cafe, Kenny's Castaways, and Pianos.

Her music has also recently enjoyed a bit more 'commercial' success with songs like "Breakable" and "Keep Breathing" being featured on ABC show Grey's Anatomy, as well as a 2007 Old Navy commercial being set to her song "The Way I Am".

Ingrid Michaelson is one of a kind.