Faith Hill : Bio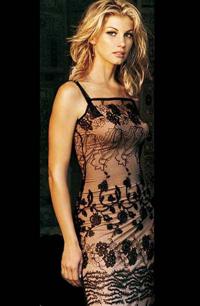 Audrey Faith Perry was born September 21, 1967, in Jackson, Mississippi, to parents Ted and Edna. The daughter of a factory worker and a former bank employee, Faith took her singing abilities to family reunions and gatherings, local rodeos and fairs, church, school -- virtually wherever she had an audience -- while growing up in Star, MS.

It only took a few months in college for Faith to know that she was ready to pursue a career in country music. At the age of 19, she headed to Nashville to realize her dream.

New to Nashville, Faith's first job was at the Country Music Fan Fair, selling t-shirts. Her next job, as a secretary at Gary Morris' publishing company, would eventually lead her to stardom. Caught singing privately (while on the job) by a writer who worked there, Faith was convinced by the writer to do a demo of a song. Gary Morris himself heard Faith's rendition of the song and encouraged her to pursue a singing career.

With a switch in day jobs and ready to take on the music industry, Faith met songwriter Gary Burr. Faith began to sing harmony as a backup singer at Gary Burr's shows, which not only gave her exposure, but helped her perfect her harmony singing and writing, thanks to Gary. It was at one of Gary's shows that a representative of Warner Brothers heard Faith sing.

Signed with Warner Brother Records, Faith's first album, entitled Take Me As I Am, which was released in 1993, sold 2 million copies and spawned such number one hits as "Wild One" (her debut country single) and a rendition of rocker Janis Joplin's "Piece of My Heart".

Two years later she followed up with It Matters To Me, whose production was delayed due to an operation on her vocal chords. The album was certified triple platinum, and spawned such hits as "A Man's Home Is His Castle", about domestic abuse, and the title track which stayed at number one for 3 weeks.

Faith's third album, Faith sold even more than her previous album releases, selling 4 million copies. Her current album, Breathe, has already sold 3 million copies, while her single "This Kiss" has been at number one for several weeks and has received airplay on country music stations, pop stations, and adult contemporary stations around the world.

The singles "Breathe" and "The Way You Love Me" have also been number one for 4-6 weeks.

Recipient of this year's Academy of Country Music Award for Top Female Vocalist and Video of the Year for the single "Breathe", Faith has already received the Academy of Country Music Award for Favorite New Female in 1994; the TNN/Music City News Single of the Year for "This Kiss" in 1998; and named Female Vocalist of the Year in 1999 by TNN/Music City News, among many other awards and honors. This year alone, she was nominated for 5 Academy of Country Music Awards.

Faith performed in the closing ceremonies of the 1996 Summer Olympic Games in Atlanta, sang the national anthem at Super Bowl XXXIV and performed at this year's Oscar ceremony. Not only is she a recent spokesmodel for Cover Girl cosmetics, she also appears in the latest Pepsi commercials. Voted one of People magazine's 50 Most Beautiful People in the World and founder of the Faith Hill Family Literacy Project, the multi-platinum recording artist is married to country singer Tim McGraw, father of her two daughters, Gracie and Maggie.