Gwen Stefani : Bio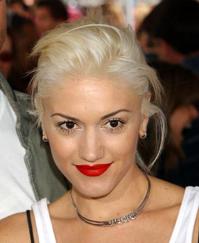 Gwen Stefani (born October 3, 1969) is an American singer, songwriter, fashion designer, and occasional actress. Stefani made her debut in 1992 as the frontwoman of the pop–rock band [No Doubt]. The release of the group's second album Tragic Kingdom (1995) propelled them to stardom and it sold more than fifteen million copies worldwide. It spawned the singles "Just a Girl", "Spiderwebs", and the airplay number-one "Don't Speak". The band's popularity went into decline with Return of Saturn (2000), but Rock Steady (2001) introduced reggae production into their music, which was generally well-received.

Stefani recorded her first solo album Love. Angel. Music. Baby. in 2004. The album contains pop and dance records and influence from hip hop and R&B. Its third single "Hollaback Girl" became the first U.S. digital download to exceed sales of one million and "Cool" was one of 2005's most popular radio singles.

The Sweet Escape, Stefani's second solo album, will be released on December 5, 2006 in North America and on December 4 elsewhere. The album's first single is "Wind It Up".
External Links