Girls Aloud : Bio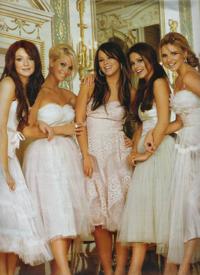 Girls Aloud are a Smash Hits Poll Winners, TMF award-winning and BRIT Award nominated British girl group created on ITV1 talent show Popstars: The Rivals in 2002. The group, consisting of Cheryl Cole (nee Tweedy), Nadine Coyle, Sarah Harding, Nicola Roberts and Kimberley Walsh, has gone on to become one of the most successful pop groups of the decade with a record breaking fifteen consecutive Top 10 singles (including three number ones), four platinum albums (including a number one) and record sales in excess of 4 million in the UK alone. They have also scored successes around Europe with Number One singles in Greece and Ireland. They are also recognised for their stunning looks as winners of a Glamour Women of the Year Award and an FHM Bloke Award.

Girls Aloud hold the record for the shortest time between forming and reaching number-one in the UK Charts (with their platinum-selling debut single "Sound Of The Underground"), and have since become one of the few reality television groups to have had continued success with Guinness World Records listing them as the Most Successful Reality TV Group in the 2007 edition. Their record of fifteen consecutive top ten singles is also unmatched by any other girl group beating the Spice Girls' previous record of ten, but not the string of number-one singles.

For a contemporary pop group manufactured on reality television they have received unprecedented praise from broadsheet newspapers and the rock music press, with publications including the Observer Music Monthly, and the NME giving their music rave reviews.
External Links