Girl in a Coma : Bio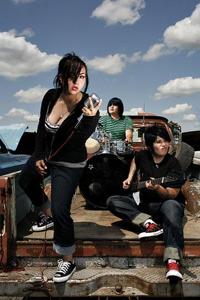 Girl in a Coma is a rock band from San Antonio, Texas – land of puffy tacos, Lone Star Beer, and the place where Ozzy pissed on the Alamo.

All through High School best friends Jenn Alva and Phanie Diaz spent their Friday nights not at the football games, but in Phanie's bedroom listening to records, singing along to punk songs, and talking of the band they would someday form.

Meanwhile, perched quietly all along in the bedroom's top bunk bed, Phanie's little sister Nina, eight years their junior, listened, learned, and at age 12 finally got the courage to ask the older girls to listen to a song she just wrote.

She borrowed Phanie's guitar (the girls had no idea Nina could even play), stood up straight, looked them in the eye, and promptly blew Jenn and Phanie away with what is recognized now as Nina's powerful, expressive voice and amazing songwriting ability – mature beyond its years, unforgettable to anyone who hears her sing.

Girl in a Coma was formed that night, with Nina singing and playing guitar, Jenn on bass and Phanie on drums.

For the next five years the three girls practiced, wrote songs, and slowly built up a solid and loyal fan base though constant touring.

While Nina is often referred to as "the female version of Morrissey," the band as a whole has been compared to The Smiths, the Yeah Yeah Yeahs, and the Pixies. Drawing from these influences (the band's name, Girl in a Coma, comes from the classic Smiths song "Girlfriend in a Coma"), the Girls have managed to create a sound and style that not only pays homage to their heroes, but is uniquely their own.

Currently, the band is touring the country in support of the new CD.