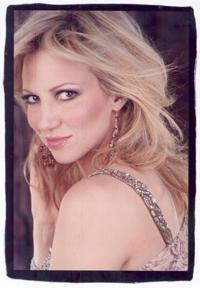 Deborah Ann Gibson was born August 31, 1970, in Long Island, New York. With her family always behind her, Deborah wanted to delve into show business at an early age and began songwriting at the age of five.

She also took her talent to the stage of the Community Theater, with her sisters. Three years later, she was part of the children's chorus at the Metropolitan Opera House in New York City.

only in our dreams

By the time she signed to Atlantic Records at age 16, Deborah had already showed off her vocal skills on Broadway, in various shows. Although Deborah was gradually paving her way in the industry, she was a normal student at Sanford H. Calhoun High School, where she was a cheerleader.

In 1987, Deborah (then Debbie) Gibson's first album was released, titled Out of the Blue. It spawned the hits "Only In My Dreams," "Foolish Beat" and the title track. The success of "Foolish Beat" made Debbie the youngest artist to have written, produced and performed a Number 1 song (at the time). With over 5 million copies sold, Debbie set on to continue her success with her follow-up album, Electric Youth.

Released in 1989, Electric Youth went triple platinum, and spawned the title track and the single, "Lost In Your Eyes." The latter earned the New York Music Award for Song of the Year in 1990, while Deborah took home the same award for Best Pop Female Vocalist that same year.

nothing is impossible

Debbie had just forged a name for herself in the music industry, but in 1992, she returned to theater as Eponine in the Broadway production of Les Miserables. In the years that followed, Deborah played opposite roles as Sandy and Rizzo (respectively), in productions of Grease, and was also cast as Fanny Brice in the Broadway production of Funny Girl.

In 1990, Anything Is Possible was released and was certified Gold, while Body Mind Soul was released in 1993. 1995 saw the release of Think With Your Heart as well as a Greatest Hits album, and her self-titled album, Deborah hit shelves in 1997.

In the meantime, Deborah had returned to Broadway again, this time as Belle in Beauty and the Beast, and Gypsy Rose Lee in Gypsy at the Paper Mill Playhouse. You may have also recognized her voice as the narrator in Joseph and the Amazing Technicolor Dreamcoat, and stepped into the shoes of Cinderella as the title role of the national production.

no longer a teen queen

Her most recent album, M.Y.O.B (Mind Your Own Business) was released in 2001, and features material written and co-written by Deborah. It was released on her own label, Golden Egg Records.

While it doesn't seem like Deborah has time to do anything but sing and act, she created her own Broadway musical called Skirts in 2001, and starred, executive produced and musically supervised a VH-1 movie titled, Teen Queens.

Deborah also has a long acting resume to add to her musical and theatrical careers; she has appeared in Beverly Hills 90210, Step by Step, and the films Ghostbusters, My Girlfriend's Boyfriend and My Ex-Girlfriend's Wedding Reception.

When she's not busy at work, Deborah is an active supporter of charities like Pediatric AIDS Foundation, the Make-A-Wish Foundation and St. Mary's Children & Families Foundation.

Deborah will surely not disappear from the radar; you'll find her on the radio, theater stage or TV, or perhaps as the writing hand of other musicians' albums.