Fallz : Bio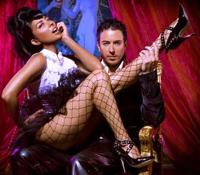 FALLZ approach to music combines electronica and modern rock with melodic female vocals. FALLZ achieves a unique sound that is both dark and cutting-edge, melodic and memorable, by combining intense synthetic sounds and guitar riffs with big vocal hooks.

FALLZ lyrics are inspired by life experiences: Love, hate, pain, knowledge, despair, hunger, anger, tranquility and violence. We take our cue from our favorite authors: Poe, Lovecraft, William Gibson, Jorge Luis Borges, Kerouac, Plath, Garcia-Marquez, Rice, Faulkner, Hurston . . .

FALLZ was formed in Miami Beach by Aya G. and Brett Fisher in 2004. FALLZ songs are produced with renowned European dance producer Robert Collado, aka Kluster/Coldfusion. FALLZ's live band includes keyboardist Ralph Ceccarelli and drummer Brandon Cruz. All FALLZ's songs are written and produced by Aya G., Brett Fisher, and Robert Collado. FALLZ have been licensing their music for video game, TV, and movie soundtracks.