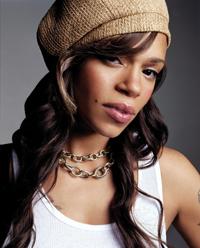 The blues help us laugh at our misfortune, make light of our hazardous lives, and reaffirm that living is what life is about no matter how many hurdles we have to jump over.

* Opal Palmer Adisa


These days, most R&B music is heavy on the rhythm and glaringly light on the blues. Faith Evans may not be a traditional blues singer, but an unmistakable trace of indigo melancholy reverberates in her full yet delicate soprano on her fantastic new CD, Faithfully. But rather than the sound of sadness, it is the battered echo of hard times that quietly rumbles when Faith Evans parts her lips and opens her mouth to sing. "I'm really an inner spirit that only makes itself known through the music" Evans says. "A lot of people think I'm an introvert, or quiet and moody. I've even heard some people say that there's a certain mystery or darkness about me. I'm not that way. I'm just really into what I do. My mind is so musically inclined that I couldn't completely express myself if I wasn't a singer and a songwriter. I keep everything in my mind and heart until I lay the tracks. Everything I feel comes out in my music".


Indeed, the release of Faith Evans stunning platinum debut album, 1995's Faith, found the gospel-trained singer-songwriter-producer in the midst of one of the happiest periods in her life: she was young and madly in love with her first husband, the late Notorious B.I.G.. Recorded in the lustful flush of the couple's (soon-to-be troubled) romance, Faith was a collection of bass-heavy odes to intensely passionate love and sexual desire (Soon As I Get Home, You Used to Love Me, No Other Love) that sounded best while chilling with a lover at home on a rainy day.


"Even though there were songs on my first album that expressed hurt and pain, there were also songs that were truly happy, and those songs came off the top of my head because I was floating like a butterfly back then" recalls the 28-year-old Newark, New Jersey native. "I was so happy and in love at that particular time. I was just happy because B.I.G. made me feel like that. He made me feel like I was the queen!"


I guess the secret of my youth is struggle.

* Miriam Makeba


Unfortunately, the good times would not last forever. Evans increasingly felt that her talent was overshadowed by the fact that she was married to B.I.G., one of the most successful and popular rappers in history. Complicating matters further, Evans, who had become estranged from B.I.G., was dragged into the now infamous West Coast vs. East Coast rap war. All of those factors understandably affected the outcome of Evans' strong but admittedly unsatisfactory second album, 1998's Keep The Faith. "My mind was clouded with so much stuff when I made that record" says Evans.


In the wake of Keep The Faith, Evans stepped out of the spotlight to clear her head and focus on raising her three children: Chynah, 8; Christopher Jordan, 5; and Joshua, 3. She also remarried, renegotiated her contract with Bad Boy, and relocated from New Jersey to Alpharetta, Georgia. "I had to separate personal stuff from what could really be sorted out as business" she explains. "I had to stop crying over spilled milk and just do what I had to do to make things different. My husband played a big part in helping me work through that process."


And as if that wasn't enough, Evans also accepted an invitation to become the national spokesperson for the City Kids Foundation, a New York-based organization that sponsors self-esteem, health, education, arts and problem-solving programs aimed at inner city youth. "I chose to support that organization not only because I'm a mother but also because I love kids and I'm committed to protecting and preserving their innocence" says Evans.


In late 1999, Evans and her husband/manager, veteran music industry executive Todd Russaw, began laying the musical blueprint for Faithfully. "I didn't want to go about this album the same way I've done my other records - just waiting to hear tracks that Puffy sends me" says Evans. "My husband and I definitely operate as a team, both at home and in the studio. He and I served as Executive Producer on this album, along with Puff. We started working on Faithfully on our own. We recorded about 10 songs in L.A., including the first single, You Gets No Love. We presented them to Puff and he was like, 'Wow! You ain't playing! I really gotta come with it now'. I think he had a lot more respect for me after seeing my dedication to the project. Then we went to Miami to start 'officially' recording the album with Puff, which was really enjoyable".


The result is a remarkably cohesive and outstanding assortment of sophisticated, sexy and infectious hip-hop-tinged R&B grooves, ballads and party jams. Indeed, Faithfully is not only Evans' best album to date, but also certainly one of the best albums of the year. It's a continuous series of highlights that grabs your attention from the moment you press PLAY and never lets go. Do Your Time is a jazzy, old school soul groove in which Evans sings a letter to an incarcerated friend, encouraging him to be strong, and assuring him that she will do his time with him on the outside. She shows off her scatting chops and other jazzy vocal acrobatics in Where We Stand, a bass-heavy, mid-tempo number about questioning and accepting the possibility of true love. Love Can't Hide is a beautiful, sparsely produced down-tempo groove that embodies Evans' poetic lyrics about yearning to reunite with a former lover. Recalling both the captivating majesty and vintage soul sound of Sam Cooke's It's Been A Long Time Coming, Troubled World is an anthemic, orchestral ballad about overcoming hardships and triumphing in the face of adversity. And lyrically, Evans throws down some serious grit on Brand New Man, a lush, slightly churchy, old soul ballad in which Evans condemns an unfaithful lover.


For women to put our hopes and desires into words is still a magical and rebellious thing in spite of how common it may seem to be. To have the freedom to push our ideas and words further than they have in the past is a gift many women before us have not been able to savor (and many still cannot).

* Jewelle Gomez


More than any of Evans previous albums, Faithfully is strongly influenced by hip-hop. Don't Cry, for instance, is built around the soulful hip-hop track for OutKast's Mainstream. Similarly, Heaven Only Knows borrows from the beat for Mobb Deep's Give Up the Goods. However, Alone In This World and the title track are the most notable hip-hop-inspired songs here. The former samples the beat for B.I.G.'s Who Shot Ya, while the latter borrows from Juicy. "I thought doing those songs that way was a great way to pay homage to B.I.G. without actually singing about him" Evans says.


All things considered, Evans is happier now than she's ever been in her life, and her joy resonates throughout Faithfully. "I really put my heart into this album, and I love it" she says. "With Faithfully, I truly feel I have created something to be excited about".