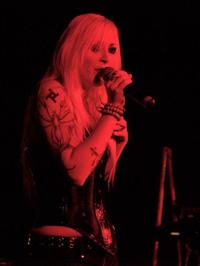 Ego Likeness was created by artist Steven Archer and writer Donna Lynch in Baltimore in 1999. Their music has ranged from raw, darkly experimental trip-hop (Songs From a Dead City, 1999) to moody and melodic electronica (Dragonfly, 2000/2005 DFD) to a fusion of industrial rock and darkwave (Water to the Dead, 2004 DFD & The Order of the Reptile, 2006 Dancing Ferret Discs). Coming from art-based backgrounds, Archer and Lynch incorporate their various non-musical projects into the albums, building connections between their creations.

Justin Ding0 Sabe joined EL shortly after it began, lending his talents to the project, which have included -at random points over the years- tribal and organic instrumentation, fire, tubas, electronics, robots, knitting, soldering, obscure knowledge and sub-references, and presently, synths and keytar.

EL has toured the continental United States, Germany, and Luxembourg, and has played at Dracula's Ball (Philadelphia PA), Convergence 11 (San Diego CA), Eccentrik Festival I & III (Raleigh NC), Freak's United (DC), Gothstock 2005 (Hartford CT) and The Black Sun Festival I (New Haven CT).

They have had the honour to share the stage with The Cruxshadows, Voltaire, The Damned, Chris Connelly, Collide, Razed in Black, Bella Morte, Das Ich, Rasputina, Meg Lee Chin, Attrition, Ayria, Carfax Abbey, Anathema Device, The Start, Iris, Decoded Feedback, The Azoic, More Machine Than Man, In Strict Confidence, Combichrist, Still Life Decay, Nurzery Rhymes, nicki jaine (of Revue Noir), Dismantled, Thou Shalt Not, Anders Manga, In Tenebris and many others.

They have also appeared on numerous compilation CDs, including several Asleep by Dawn releases and the Neil Gaiman tribute CD 'Where's Neil When You Need Him?' (DFD, 2006); released remixes for The Cruxshadows (Cassandra- Fortress in Flames), The Last Dance (Terribly When- Reflections of Rage), Thou Shalt Not (Inside of You, Inspite of You- The Projectionist), and Black Tape for a Blue Girl (Tarnished- Scarecrow);and appeared on Voltaire's album Then and Again. EL has also been featured in publications such as Gothic Beauty, Outburn, ABD, Side-line and Sonic Seducer, to name a few.

Archer, Lynch and Sabe also have an experimental/ spoken word/ instrumental band called The Trinity Project. Trinity was formed in 1999 and released two albums, The Trinity Project I (1999) and The Subtle Movements of the Entropy Engine (2001). Archer is the creator of the experimental/noise project Hopeful Machines since early 2005 and has albums available for download. He also DJs at Chronos (Club Five) in Washington DC, and performs with the industrial band Blind Till Now.
In addition to co-writing for EL and touring, Lynch is currently working on several short stories and a second novel. Her first novel will be published and released by Raw Dog Screaming Press (www.rawdogscreaming.com) in 2008.