Echobelly : Bio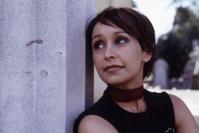 Echobelly are a British/Swedish alternative rock band. The literal meaning of the band's name is 'hungry for change'. They were brought to prominence after much praise by singer Morrissey who asked them to be the opening act on his tour. Singer Sonya's vocal style has also been compared to Morrissey's. They briefly peaked during the Britpop craze of the mid-1990s.

The original lineup consisted of:

* Sonya Aurora Madan (vocals)
* Glenn Johansson (guitar)
* Debbie Smith (guitar)
* Alex Keyser (bass)
* Andy Henderson (drums)

Keyser was replaced by James Harris after their second album. Keyser went on to join another band called Dragster(?).Harris was soon replaced by Ruth Owen after their third album when Debbie Smith left, she is now a well known DJ on London's alternative gay scene and has also played in Snowpony, a supergroup that contained members of My Bloody Valentine and Stereolab.
External Links