drain sth : Bio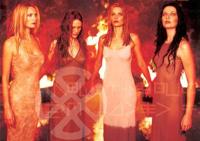 Noted today for their Seattle / Grunge sound, Stockholm all female quartet DRAIN have undergone many direction changes in both musical style and image. Guitarist Flavia Canel and drummer Martina Axen have been together in many acts starting with Punk band LIVIN' SACRIFICE. As this act progressed the sound developed into more of a Hard Rock vein.

As the band then veered into more of a mainstream Pop direction Axen, Calen and vocalist Malin Ekholm quit, forming a new band in the form of RAG DOLL with bassist Anna Kjellberg, although RAG DOLL folded upon Ekholm's departure.

However, interest in the band ignited once more prompting Axen, Calen and Kjellberg to reunite together with ex-NECRONANCY vocalist Maria Sjölholm. Upon signing a deal with MVG records the band opted for another new title in DRAIN. The 1999 album 'Freaks Of Nature' would be noted for the inclusion of the track 'Black', co-written and featuring lead guitar from BLACK SABBATH's Tony Iommi. Live promotion in North America included a second stage appearance at the 'Ozzfest' event.

For the American market the band were known as DRAIN S.T.H. Despite heavy publicity the band would ultimately fold with Axen and Kjellberg, the latter now switching to guitar, created SUPERFIX in union with China from SINISSTAR. Progress with this new unit was slow, a second demo and Los Angeles showcase gig being delivered in August 2002.

During 2001 Flavia Canel re-emerged touting her new project, the Brooklyn, New York based ANOTHERDAY. In early 2002 Axen would also announce the formation of a high profile side endeavour dubbed DR. FUNGUS. Joining her on this venture would be COAL CHAMBER bassist Nadja Puelen, ADEMA drummer Kris Kohls and UNIDA guitarist Arthur Seay.

By mid 2003 Flavia Canel, working alongside vocalist / guitarist Niklas Fagerström, ex-SELPH guitarist Serban Carapancea and drummer Tony Baioni, was touting a fresh Stockholm based band entitled BLOWSIGHT. That summer ex-DRAIN bassist Anna Kjellberg was to be found performing a live stand in role for New York industrial band HANZEL UND GRETYL's 'Fukken Über' US tour. June of 2004 had reports emerging that Axen had joined SNAKE RIVER CONSPIRACY to replace the exiting Tobey Torres, but in early 2006 it was announced that Axen had quit SRC to focus on her solo work. Kjellberg would embark on a summer tour with Revolting Cocks. -June 18th, 2006

THE BREAKDOWN:
Flavia is currently playing in BLOWSIGHT
Martina is currently doing her SOLO WORK
Anna is currently seekingNEW PROJECTS
Maria has retired from the music business.