Crystal Cloud Blvd : Bio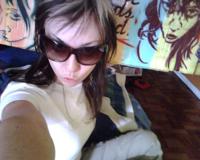 Crystal Cloud invites you to take a ride down her new Boulevard in Los Angeles, Ca. Crystal Cloud Blvd, with no periods allowed! (She states referring to the spelling, not the simple fact of having two females in the band.) CCB (for short) was created with the ingredients of Michael Sacca (Guitar), Corrine Gonzalez (Drums) Alex Coke (Bass) and of course Crystal Cloud herself (Vocals). Together they run more like your 1965 Chevrolet convertible than your new BMW five series. They sound like waking up on the beach after a three day meth binge with your favorite uncle. You know the one.

While Michael was interning for band manager, Steve Ricardo, (The Charms, The Love Me Nots, ect.) , Crystal was fighting the idea of pursuing a solo career because frankly, she couldn't find a band that would stick together more than six months. She'd been working with Kim Fowley but had nothing but a dog, studio apt, and a retired hit music producer. She couldn't imagine singing something that she didn't live or feel. Kim Fowley passed on her number to Steve Ricardo who met up for lunch one afternoon after she finished her waitressing shift at Barney's Beanery. Crystal's southern personality stood out so much that when news circled back to Michael, he decided to stop in to say hello one afternoon. That day made history. So long ago it seems but it was only earlier this year around Valentine's Day. At the same time Corrine had just exited the freeway from New York at Crystal Cloud Boulevard. She met Crystal once and came back the next day with her license to play. While vacationing in the boroughs, Al caught wind of the Blvd and jumped the red eye back to Los Angeles to lay down the bass.

In March they entered the studio run by Gavin Ross to record their first demo entitled "Cloud 10 (have you been?)". Hours after the demo was finished The Blvd made their premier performance debut at Mr.T's on July 3, 2007.

A month and a live worldwide internet broadcast later, they returned to the stage August 6th, personally invited by Mr.T's and Promoter, Bob Cantu. That Monday night, they tripled the crowd from their first show packing the place at 9pm. With the use of flyers, Myspace bulletins, texts, calls and even smoke signals, CCB was graced with some returning faces, some new faces, some good friends that came to support the band.

Whether you were there to see CCB or not, their appearance and performance has the strength to stall you and bring you to their Cloud 10. With diligence, Crystal organizes her stage show. From matching colored outfits all the way down to the color of her mic stand. They keep you waiting and wanting more.

Their first demo is currently getting re-mixed and mastered by David Troia, an engineer/ producer for Balance Studios. David is a seasoned engineer who recently co-produced seven tracks on the new Down record. Troia adds that special last touch on CCB's first demo.

CCB is going to start pre-pro for their first full length EP w/ Troia set to record in the beginning of 08 in New Orleans, LA. CCB is on the blvd and you'll want to stop in for a journey filled with spontaneity, color, exploration in sound of the past, present and future; constantly challenging the noise coming out of your radio and TV.