Coach Said Not To : Bio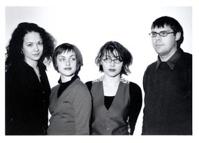 There is no such thing as a group with an original sound.

There are only groups who blend sound originally.

And this is what Coach Said Not To does.

Inspiration comes not from miraculous or grandiose sources, but from what catches our eye in the everyday.

After an idea graduates to song form, music is churned through the Coach Said Not To sausage factory. This consists of four equally strong sources of opinion and influence known as Eva, Lee, Linnea and Nate.

The unique personality of each song is a direct result of our collaborative method.

Subject matter is observational, conversational, sarcastic, sympathetic, cynical, satirical. Music consists of strong melodies, 3-part harmonies, rhythmic shifts and ornamental sounds.