Cascada : Bio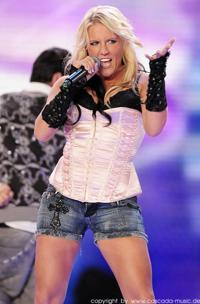 Following the sensational success at the World Music Awards 2007, it..s clear: Cascada is the most successful German act worldwide right now.
Besides artists like Celine Dion, Justin Timberlake, Rihanna, Shakira and Beyonce, dance pop sensation Natalie Horler from Bonn/Germany is holding the desired award in her hands.

This huge success starts in 2005 when their debut album "Everytime we touch" and their debut single with the same title takes the world by storm and reaches top 5 chart entries in countries like America, Great Britain, France, Canada, South Africa, Japan, Scandinavia and The Netherlands.

Many awards, gold and platinum records follow: for example, double platinum in the USA, double platinum in the UK, Gold in France, Scandinavia and South Africa, the US Napster Award 2006 and the US Dance Star Award 2006. Fans from everywhere also make Cascada number one in Germany for the most visited "MySpace" page. Over 23 million clicks on her songs speak a very clear language.