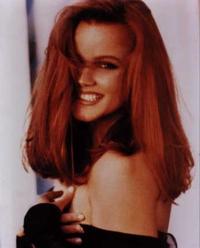 Belinda Jo Kerzcheski was born August 17, 1958, in Hollywood, California, to parents Walt and Joanne. Part of a family of 3 brothers (Butch, Joe and Josh) and 3 sisters (Hope, Mary and Sarah), Belinda was raised in a strict home (which may explain her rebellious behavior later on) by her mother and her stepfather, after her biological father took off.

A tomboy and a pretty good student, Belinda was part of the track and field team in her high school days. Her feminine side was displayed while bopping around in her cheerleading outfit, while she showed a boyish side as she played sports with the guys in her neighborhood. Even early on, Belinda had weight problems.

let's a go-go

Although she was awarded a scholarship for her athleticism, she didn't go off to college after graduation. Instead, she left home to gain her independence and moved to Hollywood. Her timing couldn't have been better, as California was just hit with the '80s punk movement.

She joined a small punk band called the Germs for a short while, but quit after a short period because she grew ill. She did get hired on as the group's manager though, and her time with the Germs is what led to her relationship with fellow future Go-Goer, Jane Wiedlin.

Jane and Belinda decided to form a band of their own, and after chance encounters, the Go-Gos were formed in 1978, consisting of Belinda on vocals, Jane on rhythm guitar, Charlotte Caffey on lead guitar, Kathy Valentine on bass, and Gina Schock on drums.

Their debut album Beauty and the Beat spawned the hugely popular singles "We Got the Beat" and "Our Lips Are Sealed" and went double platinum, while the albums Vacation and Talk Show offered more hit singles to the '80s pop scene. The Go-Go's revolutionized the female pop scene of the 1980s (in the era where MTV was just becoming popular) and became the first female group to top the US charts.

just belinda

Despite their success, the Go-Go's broke up in 1985 due to tension, busy schedules and extreme drug abuse. But that didn't mean that we would no longer hear Belinda, as she stepped out with her own solo career, which was a whole other success altogether. She released her debut solo album, Belinda, in 1986.

With the single "Mad About You," Belinda proved that she can go it on her own, and wowed audiences even more with her 1987 album, Heaven On Earth. The latter spawned the title track, "Heaven Is A Place On Earth," (which became a huge hit), followed by "Circle In The Sand" and "I Get Weak."

Her next albums, 1989's Runaway Horses, 1991's Live Your Life Be Free, 1993's Real, and 2000's Original Gold didn't see as much success as those of the early '80s (at least not in the US; she was topping the charts in Europe, especially the UK), unlike 1997's A Woman & A Man, which was a hit and featured Susanna Hoffs and Brian Wilson.

The albums showed a different Belinda: one with more edge than the poppiness she was known for (as opposed to A Woman & A Man, which was a return to the Belinda everyone knew and loved).

never cast away

A veritable pop queen and survivor, Belinda has also made a foray into film, with roles in 1984's Swing Shift (starring Goldie Hawn and Kurt Russell), and cameo appearances in 1988's She's Having a Baby and a 1996 episode of Shooting Stars. Belinda has also composed songs for the soundtracks of the films Fast Times at Ridgemont High, Romy and Michelle's High School Reunion and 200 Cigarettes.

Belinda and the Go-Gos did reunite for a concert to benefit the Environmental Protection Initiative, which led to a small tour in 1990, the same time their unsuccessful Greatest Hits was released. 4 years later, the Go-Go's reunited once again for the release of the album, Return to the Valley of the Go-Go's, which included 3 new songs. In 1998, Belinda did bring a touch of the Go-Go's back when she sang a revamped version of "Our Lips Are Sealed" for a Super Bowl AT&T commercial.


Belinda and former Go-Go Jane Wiedlin do still work together; attaching their names to different environmental and humanitarian/animal rights causes.

Belinda is married to actor/producer Morgan Mason, and together they have a son, James Duke Mason. Leaving behind a life of heroin abuse and fluctuating weight, Belinda is now a mother and always a legend.