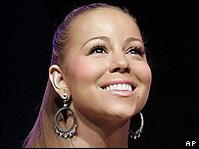 Mariah Carey, the tasty singer.

More hits than you can shake a stick at.
Great looking lass...
Not a bad voice either...
...
Excerpt from official site...
...
Mariah Carey, the biggest-selling female recording artist of the 1990's is ringing out the decade with Rainbow, her first album of all-new material since 1997's quadruple-platinum Butterfly. According to Billboard (October 16, 1999), Rainbow is "a seamless synthesis of the pure-pop sound that distinguished her earlier efforts and the streetwise rhythms inherent in her more recent recordings." And Mariah's worldwide legions of fans - who've bought more than 120 million copies of her albums and singles since her self-titled debut in 1990 - are bound to agree.

"Heartbreaker," the first single from Rainbow, made music history on September 29, 1999, when it became Mariah's 14th #1 single on the Billboard Hot 100 Singles chart, a feat rivaled only by the Beatles (20) and Elvis Presley (17 or 18, depending on whether one counts "Don't Be Cruel" b/w "Hound Dog" as one or two records). With first-week's sales of more than 271,000 singles, "Heartbreaker" gave Mariah the biggest first-week's sales ever. When "Heartbreaker" entered its second week at #1, Mariah spent her 60th week at #1 breaking the long-standing 59-week record established by the Beatles as the artist(s) with the most weeks at #1 in the 41-year history of the Hot 100.

With the exception of her cover version of The Jackson 5's "I'll Be There," Mariah has co-written all of her #1's, including "Heartbreaker." With the exceptions of "I Don't Wanna Cry," "Someday," "Love Takes Time," and "Vision Of Love," Mariah has co-produced all of her chart-topping singles.

An exclusive Internet preview of "Heartbreaker" was made available on Microsoft's MSN WindowsMedia.com from August 1-August 20, 1999; during those five days, the site drew some 2.6 million hits.

A video for "Heartbreaker," lensed by action film director Brett Ratner ("Rush Hour"), debuted on MTV on August 16, 1999, and went on to become one of the top 10 most-requested videos on the network's top-rated "Total Request Live" for some seven weeks running. A "Heartbreaker (Remix)" video features appearances by Da Brat, Missy Elliott, Snoop Dog, and DJ Clue.

Rainbow features 13 new tracks written by Mariah Carey. The range of songs embraces a multitude of musical textures - including pop, soul, R&B, hip-hop and gospel - which continue to demonstrate Mariah's ability to shine in a wide variety of genres. The album features tracks such as her spine-tingling rendition of Phil Collins' "Against All Odds (Take A Look At Me Now)," produced with Jimmy Jam and Terry Lewis and two collaborations with some of today's most-respected hip-hop artists: Jay-Z, Missy Elliott, Da Brat, and Snoop Dog.

Mariah Carey is in rare vocal form, showcasing her outstanding vocal range on the tracks like "Bliss" (Minnie Ripperton-esque) to the gospel-tinged inspirational song "Can't Take That Away (Mariah's Theme)." Mariah's talent as an increasingly maturing lyricist is showcased on "Petals," a deeply moving, extremely personal ballad.

Rainbow marks the first time Mariah has worked with the legendary writing/production team of Jimmy Jam and Terry Lewis and the results are nothing short of electrifying. "We always knew from listening to her records that she was talented," says Jimmy Jam, "but we never knew how talented until we got into the studio with her. Not only is she talented, but she outworks everybody. She is the kind of artist that you have to tell 'go home, let's do this another day.' We were blown away. When you work with an artist for the first time there's always a feeling-out process. Our feeling-out process lasted about ten minutes. It was great chemistry. We're musicians and it's great to work with someone who understands all the elements of melody and harmony. It makes it great because there's no weakness anywhere. You're working with someone on the top of her game and we're on top of our game and together we hit it off very well."

Terry Lewis concurs with his longtime collaborator's assessment of their work on Rainbow. "In addition to Jimmy Jam's statement," Lewis says, "from a personal standpoint, Mariah's kindness stood out the most. She is a very caring person. We are a family business. A personal relationship is more important to us than a business relationship and, after working with Mariah, I can say she is a part of our family now. She is a workaholic and definitely the 'mother of her career.'"

Rainbow gave Mariah a chance to collaborate for the first time with writer/producer David Foster on the track "After Tonight" (co-penned by Diane Warren). "Working with Mariah was an extraordinary opportunity for me," says Foster. "It goes without saying that she's one of the world's greatest singers, but it was her musicianship that really stunned me. She thinks like a record producer and lays her vocals down like a virtuoso guitarist. Singer, writer, producerMariah is a triple threat. Working on this album with her was a wonderful experience from beginning to end."



Born and raised in New York by her mother, a former opera singer with the New York City Opera and a vocal coach, Mariah Carey began singing at age four. By the time she was in junior high school, she had begun to write songs. After her high school graduation, she got her fist big break, singing backup for Brenda K. Starr, a break that led to her signing with Columbia Records.

Mariah's 1990 eponymous debut album launched an unparalleled unbroken string of successes. Mariah Carey has sold more than 12 million albums worldwide, was certified 8x RIAA-platinum, and yielded a record-setting four consecutive #1 singles: "Vision of Love," "Love Takes Time," "Someday," and "I Don't Wanna Cry."

The title track of 1992's quadruple-platinum Emotions generated her fifth consecutive #1 single, placing Mariah Carey in the Top Ten All-Time achievers of Most Consecutive #1 Hits. Emotions earned Mariah two Grammy nominations ("Best Pop Vocal, Female" and, with Walter Afanasieff, "Best Producer") and an American Music Award ("Favorite Female Artist, Soul/ R&B"). On March 17, 1992, Mariah appeared on MTV Unplugged, leading to the release of Mariah's sixth #1 single ("I'll Be There") as well as an EP which has been certified triple platinum in the U.S. and has sold more than five million copies worldwide.

In 1993, Mariah released Music Box, an album which as sold more than 24 million copies worldwide, has been certified ten times RIAA platinum, and generated her seventh and eighth #1 singles "Dreamlover" and "Hero" as well as the Top 10 hit "Without You." Mariah followed up with her holiday album, Merry Christmas, which sold eight million copies worldwide shortly after its release in November 1994 and has been certified quadruple platinum by the RIAA.

Mariah's 1995 album, Daydream, debuted at #1 on the Billboard Top 200 Albums chart. It generated her ninth, tenth, and eleventh #1 singles - "Fantasy," "One Sweet Day" (her duet with Boyz 11 men which, having spent 16 weeks at #1, still holds the record as the longest-running #1 single in history), and "Always Be My Baby" - and has been certified 10x platinum. With Daydream, she became the first female artist in history to have three studio albums to each sell in excess of eight million copies.

Mariah's 1997 album, Butterfly, a heady sensuous mix of contemporary R&B and pop, generated the #1 hits "Honey" (featuring Ma$e & The Lox) and "My All" (her twelfth and thirteenth #1's). Butterfly has been certified quadruple platinum.

In November 1998, Mariah released her #1's album, a collection of 13 of her chart-topping megahits as well as four brand new bonus recordings: "When You Believe (from The Prince of Egypt)," a duet with Whitney Houston; "Whenever You Call," a duet with Brian McKnight; "I Still Believe"; and "Sweetheart." #1's has achieved RIAA triple platinum status.

Her 1999 Release, Rainbow, featured Mariah's 14th #1 Hot 100 Single, "Heartbreaker," which also became her 6th chart topping R&B single. Mariah Carey has had more #1 singles than any female artist, surpassing both the Supremes (12) and Madonna (11), and more #1's than any currently active recording artist. She has had more #1 singles (14) than any artist during the 1990's and seen more singles (3) debut at #1 than any artist in history. With more #1 albums (4) than any female artist in the 1990's Mariah was the first female artist to see two of her albums (Music Box and Daydream) reach the 10 million mark in sales and is the only female artist to have eight albums certified triple-platinum or better (in Mariah's case, her entire album catalog has achieved RIAA multi-platinum status).

In fact, Mariah Carey is the only artist to have had a #1 single for every year of the 1990's. The last decade to have an artist hit #1 every single year was the 1920's when Paul Whiteman & his Orchestra hit the top slot each year. (By the end of the 1920's, Whiteman had become a Columbia Records artist.) With the exception of Merry Christmas (from which there was no single release) and #1's (a collection of her first 13 chart-toppers), Mariah has hit #1 with the debut single from every one of her albums.

Mariah received 1990 Grammys for Best New Artist and Best Pop Vocal Female ("Vision Of Love"). The same year, Mariah packed up three Soul Train Awards: Best New Artist, Best Album (Mariah Carey) and Best Single, Female ("Vision Of Love").

A perennial favorite at the American Music Awards, Mariah won Favorite Female Artist/R&B in 1992; Favorite Female Artist, Pop/Rock and Favorite Album, Adult Contemporary in 1993; Favorite Female Artist, Pop/Rock in 1995: and Favorite Female Artist, Pop/Rock and Favorite Female Artist, Soul/R&B in 1996.

Mariah picked up her first Billboard Awards in 1991 for Top Adult Contemporary Artist, Top Pop Artist, Top Album Artist, Top Pop Singles Artist, and Top Pop Singles Artist/Female. In 1996, she won a Billboard Award for Hot 100 Singles Artist of the Year and, with Boyz 11 Men, a Special Hot 100 Singles Award for "One Sweet Day."

At the 1998 World Music Awards ceremony, Mariah won an award for Best Selling R&B Artist and the Legend Award for World's Best Selling Recording Artist of the 1990's. She won her first World Music Awards - World's Best Selling Pop Artist, World's Best American Recording Artist, and World's Overall Best Performing Artist- in 1995. The following year, she was presented with trophies for World's Best Selling R&B Female Artist of the year, World's Best Selling Overall Recording Female Artist of the Year, World's Best Selling Pop Artist of the Year, and World's Best Selling American Female Artist of the Year.

Mariah was presented with the Aretha Franklin Entertainer Award and named Entertainer of the Year at the 1998 Lady of Soul Awards.

In January, Mariah received the coveted American Music Award for Special Achievement. An award that has only been given out 3 times (including to Prince and Michael Jackson). Mariah is the only female artist to receive the award.

Artist of the Decade was bestowed upon Mariah at The Billboard Music Awards in December.

The World Music Awards allowed Mariah to show everyone just how talented she really is by being awarded with Best Selling Female Artist of the Millennium.

As of September 1999, Mariah Carey had sold more than 120 million albums and singles worldwide and earned an astounding 84 RIAA gold, platinum and multi-platinum certifications for her singles, albums, and video's. As one of the most popular recording artists of the 1990's, Mariah has provided an outgoing soundtrack to the decade. With the arrival of Rainbow, she continues to give voice to the emotions of our age.

In addition to Mariah's list of accomplishments, the second single off her Rainbow album, "Thank God I Found You" became her 15th #1 single in February of 2000.