Blood Red Shoes : Bio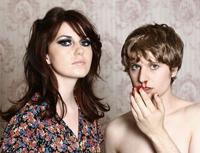 Description Info
Page Info:
Last edited by: adchelle
At: 12 May 2008, 18:09

Version: 12
Page status: Open
Page Options:
View older versions
View wiki recent changes page
Factbox (?)
Formed in
2005
Founded in
Brighton
Band Members
Steven Ansell (2005 - )
Laura-Mary Carter (2005 - )
Consisting of Steven Ansell (vocals and drums) and Laura-Mary Carter (vocals and guitar), they formed in Brighton, 2005 after their previous bands (Cat on Form and Lady Muck respectively) had broken up and they decided to "have a jam".

Their debut album Box of Secrets was finally released in April 2008 on Mercury Records, where they were transferred to following the sale of V2 to Universal.