BEKI BONDAGE : Bio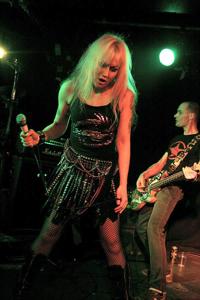 VICE SQUAD first found fame in the 80's fronted by Bristol teenager Beki Bond ( aka 'Bondage' ) she has continued to attract new fans worldwide with her awesome voice and FEROCIOUS brand of music.
The current line up have succesfully toured Europe and U.S ( sell-out shows in Hollywood ) and have new album DEFIANT just released which has been reviewed as the best VICE SQUAD album to-date.
Fusing classic punk rock anthems with great melodies and an almost rock / metal attack VICE SQUAD cannot be accused of churning out bog-standard old school punk !
Fronted by sexy QUEEN OF PUNK Beki ,(She is often cited as being the first punk pin-up featuring on the front cover of a number of influential music mags Sounds, Melody Maker, NME, and Smash Hits) Vice Squad deliver a unique and modern slant in todays punkscene and promise an exciting live show with the best female vocalist in punk today !
External Links