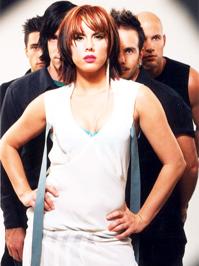 BALLENTINE was born in Los Angeles, when fresh off the bus from Arkansas, singer/songwriter Heather Ballentine arrived. Bound and determined to pursue her dream, Heather immersed herself into the LA music scene, where she met four extremely talented artists like herself. "All five of us were awestruck at the chemistry between us," states Heather (lead vocals), "We knew that we were valuable and sought after as solo artists, but we felt if we combined our talents we would be unstoppable."

In just under 24 months since their meeting, Ballentine formed a pop/punk/rock band, headed off on a USO world tour after only 3 rehearsals, signed an "In-Theater" documentary deal with MovieTunes, which has led to having numerous songs from their album, "4U" currently playing in over 20,000 AMC/Carmike Theaters nationwide. Next, Heather (lead vocals) and Frank (bass/vocals) starred on ABC's nationally televised summer reality show, "The Ultimate Love Test", of which they were the winners! Most recently, Ballentine signed a recording contract and national distribution deal with OME (Original Man Entertainment) and Lightyear / WEA (Warner/Electra/Atlantic)!

Why so much success you wonder? Imagine: Debra Harry's (Blondie) forcefulness, Gwen Stefanis magnetism, and Joan Jetts determination. Ballentine's approach to music effortlessly blends a mix of dynamic 80s sounds and punk styles, collectively creating the bands signature Rock/Pop-Punk fusion. Heather ushers in the next generation of the "girl-power" bold velocity, reminiscent of pop divas like Pat Benatar and Chrissy Hynde (The Pretenders).

Heather Ballentine was born and raised on a farm in Arkansas, Heather has been singing and writing songs for as long as she can remember --- her early influences were Blondie, Joan Jett, Cyndi Lauper and Janis Joplin. Her eclectic, often untamed vocal style with its soothing molasses drawl and her disciplined control distinguished her among her fellow classmates at the University of Tulsa, where she graduated with a degree in music and theater. After graduation, Heather moved to LA to pursue her music career.


Q. How do I contact the band?
A. For general questions for the band, send emails to: [email protected]
For all media inquiries, contact: Tanya at: [email protected]

How do I join the Ballentine Fan Club, Street Team or get updates?
Go to the side bar navigation(on the left side) and register on the online Submission Form.

How do I see if they are they touring in my area?
Look under the Events section to see when theyre coming to your neck of the woods!

How can I get them to come play in my area?
A. Send any requests to Tanya Sanchez at: [email protected]

Where and when can I find their album?
Their debut album is now available in stores nationwide!
Tower Records, Amazon.com, Borders, Hastings, Circuit City, Virgin Megastore, Wherehouse and Best Buy are some of the retailers carrying Ballentine's CD...your local music store can probably order it for you as well.

Who is Ballentines label?
Original Man Entertainment. Go to www.originalmanentertainment.com for more information.

Where can I get Ballentine merchandise?
Click on the Store page and shop away! Keep checking back for the latest t-shirts, posters, and more.

What brand of instruments do they use?
Vassil is crazy for DW drums and Zilgian cymbals, Jeremy loves his Triton Korg, Ben rocks a Gibson Les Paul, and Frank prefers his Fender Precision Bass.

Did Heather and Frank win The Ultimate Love Test?
Yes, they won! And Heather and Frank are looking forward to meeting their fans on the road as Ballentine prepares for thier upcoming regional tour.

When does Ballentine hit the AMC/Carmike Theaters?
Their scheduled to start airing the documentary; LA Music Scene this fall. But you can hear their singles playing over the monitors during the pre-show! Also check the movie tune website: www.movietunes.us and also with your local listings for more details!

Why isnt any of Ballentines music on the Radio?
Were working on that now! BUT, please call your local radio station and request for Ballentine! This will help us to get our music in rotation!

What is the best way I can support Ballentine?
Be sure to register with our Fan Club, join our Street Team, and get their Debut
Album "4U", which is available at stores nationwide! Also, call your local radio station and request for Ballentine!