Anita Lane : Bio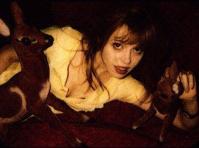 Anita Lane is an Australian singer and songwriter who directly influenced the early 1980s European post-punk landscape.

Lane was born in Melbourne, Australia in the late 1950s. Lane began singing and writing songs at 16. She was a classmate with Rowland S. Howard who would later go on to form The Boys Next Door and The Birthday Party with Nick Cave. Lane became Cave's girlfriend and moved to London with the band in 1980. She co-wrote the lyrics of three songs for The Birthday Party ("Dead Joe", "Kiss Me Black" and "A Dead Song") before they imploded in 1983.

Lane is sometimes credited as a founding member of Nick Cave and the Bad Seeds, which was forged from the debris left behind by The Birthday Party's demise. She had an undeniably strong influence upon Nick Cave and his work, often cited as his "muse", although her only recorded performance with the band is a 'cameo' verse on the Bob Dylan cover "Death Is Not The End" from the album Murder Ballads. She co-wrote the lyrics of the title track to the band's 1984 LP, From Her to Eternity, as well as the lyrics of the song "Stranger Than Kindness" from Your Funeral, My Trial. She also began to perform and record her own songs. She worked with the German band Die Haut before recording Dirty Sings under her own name. She was joined on the record by Nick Cave, and Bad Seeds Barry Adamson, Thomas Wydler, and Mick Harvey, who produced.

With Harvey, Lane has recorded a series of albums that showcased the dichotomy between her baby doll voice and the sexual longing of her lyrics. These include a pair of albums of Serge Gainsbourg's covers, 1995's The Intoxicated Man and 1997's Pink Elephants. Harvey also produced Lane's 1993 collection, Dirty Pearl, which compiled tracks from Lane's work with Einstürzende Neubauten, Die Haut, as well as exclusive album tracks. Harvey co-wrote several songs, including the UK hit single, "The World's A Girl". Lane's most recent collaboration with Harvey is 2001's Sex O' Clock.

Lane and Cave split sometime in the 1980s. She currently (2005) lives in Byron Bay, Australia with her children.