Andrea Paquin : Bio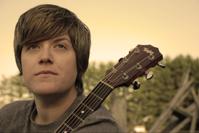 I love music and I have been playing for a long time, since I was 15 years old. I am a self taught musician. I have been writing and performing my original music from the beginning of my career. I find myself these days especially, focusing on the lyrical content of my songs. I have been influenced by such artists as Joni Mitchell, Simon and Garfunkel, Donovan Leitch, David Gray, and Glen Phillips of Toad the Wet Sproket. I have always felt a connection to the folk scene and have created my songs to blend in with this genre of music.

I was born and raised in the state NH. I spend much of my free time solo hiking up the 4,000 footers in the White Mountains. There is constant peace on the trails and it is most definitely my place of refuge.

I have been blessed to have played all over the Northeast sharing many stages with such talented musicians including Howie Day, Melissa Ferrick, Chris Pureka, Zoe Lewis, Blessed Union of Souls, Gregory Douglas, Garrison Starr, Namoli Brennet, Edie Carey, Anne Heaton, Jess Klien, Ember Swift, and Pamela Means. Performing with these artists has opened me up to new ideas regarding music and life. I feel lucky to have been able to listen to these artist's stories through their songs and discussions behind the stage. I have been given great insight from many of them and I am thankful.

I have recorded a few albums independently over the past few years. My latest recording, "It's What You Choose To See", is a 6 song EP that consists of songs about my personal growth over the past year. You can listen to a few of the songs from the album at my website www.andreapaquin.com on my music page. You can also visit www.myspace.com/andreapaquin for more music. I am currently working on a new project that will be ready in the spring. It will be my second full length album that will consist of all new material from acoustic to full band.
External Links