Black Cloud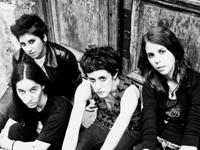 Shaela :::::: VOXX
Eve ::::::::: BASS&VOXX
Zoffia :::::: GUITAR
Marianoise :: DRUMS
Basically, our music is a natural and spur-of -the moment mix of all of our musical influences with each one's personal touch.
People have compared us from Kittie and Distillers, to The Donnas, Yeah Yeah Yeahs and Peaches, which is, in fact, quite contradictory!
That's why we rather not fit in any genre and experiment...set free our creativity and see where the hell it gets us to.
Let the "outsiders" put the tags; they'll do that anyway!
LISTEN ::: myspace.com/blackcloudrock
WATCH :::: fotolog.com/blackcloudrock
WRITE ::::
[email protected]